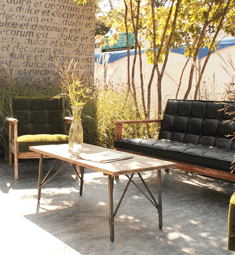 British gardeners win world cup medals … for France and Italy
Photos: Jeremy Parton
Third Briton wins bronze despite "challenges"
Standards are "much better than before"
Theme: Flowers, Greenery and A Prayer for Peace and Restoration
British garden designer James Basson won a gold medal and the Peace and Flowers Award at the Gardening World Cup Flower Show 2012 in Japan. The show was staged at the Huis Ten Bosch theme park near Nagasaki in September and October.
Despite competing under a French flag—because he lives in France and the organisers of the third annual contest were keen to attract designers from as many nations as possible—Basson produced a design that had a distinctly English feel.
Titled "Dulce et Decorum est"—after the ode by Latin poet Horace and the renowned poem written by British poet Wilfred Owen during World War I—Basson printed the phrase repeatedly on the three walls that made up the garden. The walls were sculpted to look as though a missile had torn through the structure.
And that fit precisely with the theme of the event, Flowers, Greenery and A Prayer for Peace and Restoration.
"Abandoned buildings and wasteland that have been reclaimed by nature are something of a personal obsession of mine because they are very soulful", said Basson, who celebrated his 40th birthday at this year's Royal Horticultural Society (RHS) Chelsea Flower Show in London by winning the Silver-gilt Flora Award for "The Renault Garden".
"I did a lot of research and there was one image—of an apartment that had been hit by a missile in Gaza, Palestine—with three rooms that had been blasted through.
" 'Dulce et Decorum est' is a very poignant piece, and that is what this garden is about", he said. "The poem is Owen's idea of men coming back from war suffering from psychoses as well as physical injuries. We repeat the phrase again and again on the walls of the garden and so there is healing through the repetition".
Plants, distressed furniture and water were used to show how fitting it is that nature reclaims what man has destroyed to make it beautiful once more.
The Best in Show award went to Malaysian designer Lim In Chong, while the other gold medal winners were New Zealander Xanthe White, who also won the award for best design, and Japanese designers Kazuyuki Ishihara and Hiromu Terashita.
Bob Sweet, the event's official judge and the head of RHS shows, said the world cup event has made huge strides in a very short space of time.
"I'm absolutely delighted at the improvement in the standards this year", he said. "They have moved on massively in two years. It's fair to say that standards have leapt in that time.
"As with any event, it takes time for these things to settle, but between 2010 and 2012, [standards] have definitely reached the stage, and are at the top end, of the gardens we have at the gold medal standard", said Sweet, who helped to judge the first Gardening World Cup two years ago.
"These gardens would certainly compete for gold medals at Chelsea or anywhere else".
Jo Thompson, another British designer competing under a different flag, this time that of Italy, took silver for her garden, titled "The Butterfly Effect".
"This garden is a direct response to my visit to the Nagasaki Peace Museum when I took part in this event last year", she said.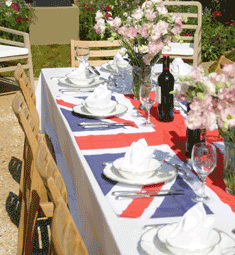 "What amazed me were the nuclear shadows of people on a wall that had been made when the explosion happened.
"There were also nuclear shadows of Acer [commonly known as maple] leaves that were full of beauty but had been created out of something so ugly and so awful", she said. "And as we came out of the museum, huge butterflies came from somewhere, so we came out of something so terrible and into something so beautiful".
Her garden makes extensive use of vertical plants—including a bright pink flower, known as Kiss-me-over-the-garden-gate, and pine trees—as well as carefully sited rocks and paper sculptures that hang in arched alcoves.
"The arches are really peaceful and are good for framing views and as a background, although I found out too late that the arch does not exist in Japanese architecture and [the contractor] wanted to know how to make them", Thompson said.
In the end, the contractor made all the arches out of plaster that had to be hand-carved so that each individual stone looked real.
Richard Miers, named by House and Garden magazine as one of the top up-and-coming designers in the UK, received a bronze medal for his "Serenity" garden.
Competing in Japan for the first time, Miers had difficulty getting his concept of the garden across to the construction team and sourcing top-quality plants. The 12 contestants also had to put up with a typhoon that affected the early days of the two-week build.
"This garden is serene and it does what I wanted it to", Miers said. "It has serenity instead of a 'wow' factor. It has restraint, elegance and practicality, and I very much designed it along the lines of less is more".
Winners
Best in Show
Lim In Chong (Malaysia)
Best Design
Xanthe White (New Zealand)
Peace and Flowers Award
James Basson (France)
Gold Medal
Lim In Chong,
James Basson,
Xanthe White,
Kazuyuki Ishihara (Japan),
Hiromi Terashita (Japan)
Silver Medal
Jo Thompson (Italy),
Gabino Carballo (Spain),
Karen Stefonick (USA),
David Davidson and Leon Kluge (South Africa)
Bronze Medal
Richard Miers (UK),
Jihae Hwang (South Korea),
Haruko Seki (Japan)