Nigel Heap, managing director, Hays Asia Pacific
In mid-October 2008, "the lights suddenly went out for the industry", admits Nigel Heap, managing director for the Asia-Pacific region at specialist recruitment experts Hays Asia Pacific. Today, they are burning brightly for a firm that has only been in Japan since February 2007, but has quickly become a market leader in specialist recruitment.
"The cycle crossed two calendar years for us. It was tough, but remarkably brief, having lasted a maximum of one year and, towards the end, the market was flat.
"That made for big growth in business the following year. Today, we have 40 percent more employees than a year ago".
In Japan, we place in excess of 600 people every year. We place 1,000 a month in Australia, with a population of 22 million. But the greatest potential is in Japan.
Founded in the UK in 1969, Hays quickly established a reputation for meeting the needs of corporate clients and candidates. It began operations overseas in 1976 and now recruits globally. The UK is the firm's biggest market, followed by Australia, Germany and France.
In 2005, the UK accounted for three-quarters of Hays' revenue, a figure now below 50 percent, with just 20 percent of its profit derived from domestic recruitment.
Japan is crucial to Hays' ambi-tions, according to Heap, who graduated with a law degree from Manchester University and oversaw the firm's ten-fold expansion in Australia after arriving there in 1997.
"We operate in 30 countries, among which Japan is very important. It has a population of 125 million and the world's third-largest GDP, although still in its infancy in terms of what we do.
"There is no reason for Japan, in 20 years' time, not to be our second- or third-largest market".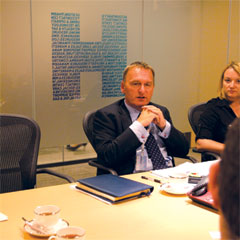 Hays entered Japan by buying a recruitment firm in 2007, since when it has doubled the size of the business to become one of the largest in the industry here. With the firm's staff drawn from 16 nations and numbering 100, of whom 60 percent are Japanese, the emphasis is on providing bilingual recruits with the very best training.
"Our consultants deal with the same candidates and the same clients to match the needs of both. Not all companies operate this way, but we firmly believe that, to match both sides, we need to understand their needs.
"People are joining us now because they know we give the best training. We are seen in the Asia-Pacific region as the benchmark for training and development of all levels".
Many employees are also attracted by the opportunity to work across the firm's global network that includes branches in Hong Kong, Singapore, Shanghai, Suzhou and Beijing, plus 34 branches in Australia and five in New Zealand.
"We have seen enormous growth where we already operate and I can see us opening another office in Tokyo. Then, in addition to our Osaka office, I can see us opening at other locations in Japan. We will also expand to have a presence in numerous cities in China, as well as Kuala Lumpur, Manila, South Korea and Indonesia. We have reasonably firm dates for a number of cities in the region".
Finance and IT have driven the rebound, while specialist areas such as pharmaceuticals are "coming back strongly", he said.
"In Japan, we place in excess of 600 people every year. We place 1,000 a month in Australia, with a population of 22 million. But the greatest potential is in Japan.
"The year 2009 was the most turbulent in the history of the industry, yet globally, we put 50,000 people into permanent jobs plus 270,000 into temporary positions", he said. "I can't wait to see the figures for 2010".