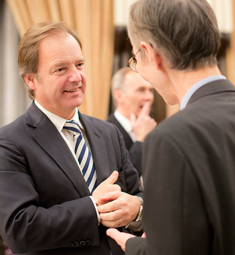 Minister of State for the Foreign & Commonwealth Office and East Devon MP in Tokyo to promote joint ventures
• First EU member minister to meet Japan counterpart since polls
• Agenda: energy, abductions, waste management
• Key to growth: defence, cyber security
Bearing in mind the specialist skills and knowledge that abound at many British firms, Hugo Swire, minister of state for the Foreign & Commonwealth Office, was keen to emphasise the opportunities for joint ventures across all business sectors during his mid-January visit to Tokyo.
Swire, representing an East Devon constituency and in his current post since September, is the first minister from a European Union member state to meet his Japanese counterpart since the Liberal Democratic Party of Japan was returned to power in December.
"These are rather exciting times, as there is a lot going on in Anglo–Japanese relations. I wanted to follow up on them with talks with my new counterpart in Japan", he told BCCJ ACUMEN. "We felt that it was very important to come here and meet the new government".
Swire met Shunichi Suzuki, the parliamentary senior vice-minister for foreign affairs, with whom he discussed a wide range of topics, including defence co-operation; nuclear and renewable energy; progress on Japan signing the Convention on the Civil Aspects of International Child Abduction and waste management systems.
One firm that is seeking a foothold in the Japanese market and hopes to benefit from Swire's visit is Coastway Holdings. The organisation, based in his constituency, holds the rights to market an Italian-designed waste management system in Japan.
Stephen Gerry, managing director of Coastway Holdings, believes the cutting-edge system is "ideal" for recycling and reusing along hundreds of kilometres of the main Japanese island's north-eastern coastline, hit by the 2011 Tohoku earthquake and tsunami.
Waste, which does not need to be separated before it is put into the machine, is converted into an inert, sterile fluff that can be either turned into pellets to generate energy, or be used as fuel as is.
A further advantage is that the system, able to sterilise clinical and hazardous waste, can be deployed to treat waste on-site.
"While I'm [in Japan], I will meet with a lot of Japanese [members of parliament] and talk about nuclear issues", Swire said. "There are lots of British companies with different areas and levels of expertise and they could come here and help".
He pointed out that already there is a two-way relationship between the nuclear industries of both countries: Hitachi, Ltd. has been contracted to build a new nuclear energy plant in the UK, while Toshiba Corporation has expressed interest in future projects.
Although members of the public are concerned about nuclear installations—particularly in light of the Fukushima nuclear plant disaster—Swire believes the fears can be allayed through regular reassurances that technology is constantly getting better and safer.
Another key area for future joint development is defence, with Swire having opened the 12th UK–Japan Politico-Military Talks during his visit.
"The Japanese are looking at their whole defence capability. We would like to see them taking on more of the heavy lifting in the region—militarily speaking", he said. "They are present in Africa and are doing a lot of good work there.
"As our military commitments change and we withdraw from Iraq and Afghanistan, we are becoming a different force. There is plenty of room for joint ventures with Japanese companies", he added.
"Japanese firms already make first-class products, so it will not be a case of UK defence companies selling stuff off the shelf to Japan, but of co-operating and sharing knowledge on systems".
Extensions of such joint efforts are likely to expand into the areas of cyber security, "another area in which the UK can bring a great deal of expertise and knowledge to the table", he added.
Cyber attacks are increasing, with a recent attack having cost a British firm £800mn in intellectual property losses and "commercial disadvantage in contractual negotiations", he pointed out.
"Japan has the same concerns, and [cyber security] is just one area in which we can co-operate and share expertise", he added.
Also discussed were Japan's commitments under the Kyoto Protocol—the agreement that sets binding obligations for industrialised countries to reduce greenhouse gas emissions—as well as obtaining Tokyo's support for an initiative to combat the problem of sexual violence against women in conflict situations. The latter proposal was set in motion by British politician William Hague.
In addition, Swire and Suzuki considered the question of ethical investments in Burma—which Swire had visited last December—and shared concerns over the "isolated, rogue, pariah state" of North Korea.
Swire said he welcomed progress on Japan's ratification of the Hague Convention on the Civil Aspects of International Child Abduction, which Suzuki assured him would be put to the Diet for debate in the near future.
"There seems to have been significant movement on this issue. We have been told that this legislation will be submitted to the parliament here", Swire explained. "This issue has been going on for a long time, and we welcome the news".
Japan is the only G7 nation not to have signed this convention, which dates from 1980 and requires that a parent accused of abducting a child return them to their country of habitual residence.
Today, there are 37 British nationals involved in child custody cases that include a Japanese parent and would be covered by the abduction convention. Dozens of other disputes have been registered at foreign embassies in Japan.
"Japan is without a doubt our most important ally in Asia, and this is particularly important in the areas of trade and security", he said, underlining the special relationship that exists between London and Tokyo.
"There is tremendous [mutual] goodwill, and it would be very foolish for the UK to ignore that or take it for granted".