When summer holidays arrive, it often signals a quiet period for media and prompts our friends in the communications world to fill the void with their surveys, studies and publicity stunts. Much of it is of limited interest, but in early August I received a number of unusually engaging reports to share with you this silly season.
There's always a surprise or two when compar­ing London and Tokyo, along with other great cities. The Best Cities for Work–Life Balance 2019, a study by US-based mobile access technology company Kisi, reveals how "work intensity, institutional support, legislation and liveability" at 40 top global destinations help citizens achieve holistic parity at work and home.
While easy-going Helsinki, Munich and Oslo top the index, Tokyo, Singapore and Washington D.C. are home to the worst of the workaholics.
Tokyo ranked 39th and London 12th overall, but they both performed equally well for leisure—the "vibrancy and variety of cultural and lifestyle offerings". The score combines cultural city rankings, the number employed in cultural and creative indus­tries, and leisure activities such as restaurants, parks, shops, entertainment and nightlife. London was first, followed by Tokyo, then New York.
And the first two also come close on:
Stress: Tokyo 17th, London 18th
Safety: Tokyo second, London 14th
Work hours: 42.5 and 42.1, respectively
Tokyo, however, is relatively overworked:
It scores highest for overall "work intensity," whereas London ranks 29th
Staff are offered 10 paid vacation days per annum, compared to London's 28
But the average number of such days actually used here is 9.8; London? 24.8
Some 20% of employees in Tokyo work at least 48 hours per week, twice that of Londoners
The jobless rate in Tokyo is 2.6%; London's is 4.8%
Tokyo languishes at 36th for LGBT+ Equality while London proudly claims third
Magic of magazines
It was good to see officially confirmed what some of us have known for ages: that "magazines are rated more favourably than any other news source for quality, accuracy, trustworthiness and impartiality".
Ofcom—the UK's regulatory and competition authority for the broadcasting, telecommunications and postal industries—studied how adults and older children in the UK access news.
It's latest annual news consumption report also finds that social media was rated least favourably, with only 37% of people who use it for news saying they thought it was impartial, compared with 78% of magazine consumers, 62% for TV, 61% for radio and 58% for print newspapers.
GREATest flight
According to a Swiss luxury watch maker, a refur­bished WWII Spitfire (left) has just embarked on the world's longest flight and, organiser Sam Dibley told me, will visit Japan along the way. Piloted by two Britons, the Silver Spitfire, which was built in 1944 and flew 51 missions, left Sussex on 5 August to tackle arctic, tropical and desert conditions in 30 countries over 43,000km. The plane will require regular refuelling in remote areas not frequented by civilian aircraft.
Dr Liam Fox MP (North Somerset)—himself an occasional visitor to Tokyo and popular speaker at British Chamber of Commerce in Japan events as Secretary of State for International Trade (2016–19)—said: "The Spitfire is an iconic symbol of world-class aerospace engineering, and I'm delighted to see this unique piece of British history brought to a global audience. Extraordinary projects such as this are exactly what the GREAT campaign is there to promote—showcasing the best of Britain to the world, encouraging people to visit, study and do business here".
I don't know if the Spitfire will get here in time for the Rugby World Cup, but we hope to catch them after they safely land and will give you a full report.
Women leaders
So soon after the sad demise of Haruno Yoshida in June, our congratulations go to another remarkable Japanese woman in control of a major UK firm. Kyoko Matsushita (left) is the new global chief executive of Essence, the London-founded media agency for Google, L'Oreal and BT, where Haruno was Japan president and CEO.
According to a Campaign Asia press release, Matsushita joined Essence in 2014 as chief execu­tive for the Asia–Pacific region, and helped to build a network of offices in cities including Delhi, Jakarta, Melbourne, Mumbai, Seoul, Singapore, Sydney and Tokyo. She was awarded a certificate of excellence in the CEO of the Year category at Campaign Asia's Women Leading Change Awards 2018 in Singapore.
Armed with a master's degree from the London School of Economics, she will lead Essence's 1,800 global staff from San Francisco in English, Japanese, German and Spanish.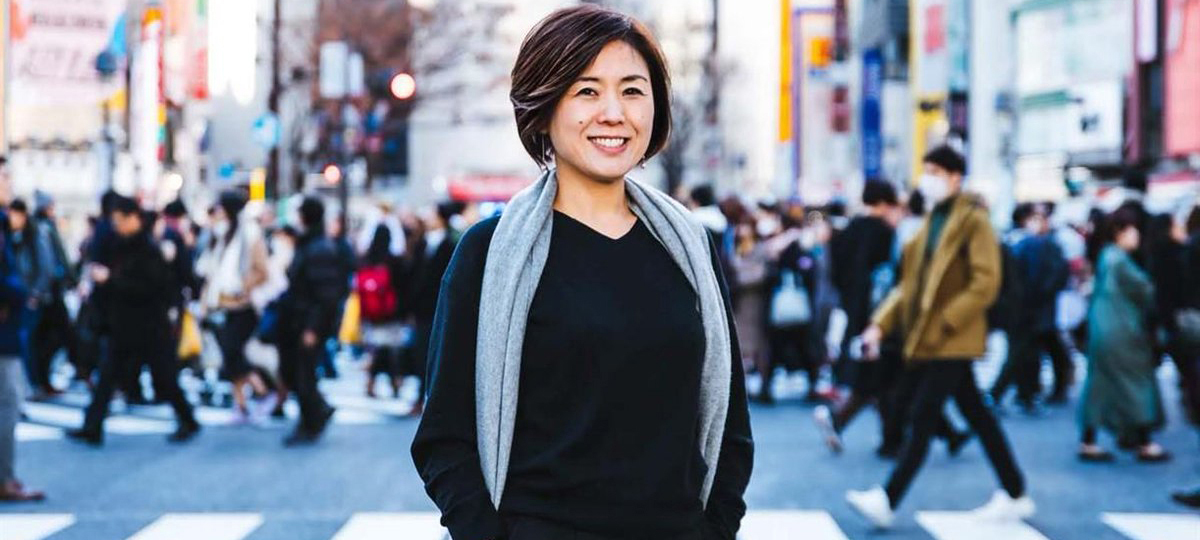 ---
Ageing rockers
Finally, following the Fuji Rock Festival in late July (page 36), August was a great month for 1980s British music in Japan, with Howard Jones, aged 55, and Nick Lowe (left), 70, both having gigs at Billboard Live in Tokyo Midtown. Looking unrecognisable from their publicity shots, Bristol-based electro-pop pioneer Jones marked the 35th anniversary of perhaps his most famous hit, "Hide and Seek," while Jesus of Cool Lowe ("I Love the Sound of Breaking Glass" and "Cruel to Be Kind") shared with us how his rockabilly number "Tokyo Bay" was inspired by the long and lonely drive to Narita International Airport with two other band members, now both sadly passed away. What is often lost on people is that the tongue-in-cheek lyrics present the bay as a romantic spot tinged with palm trees and coral reefs—not the reality of rusted wrecks and industrial gloom.