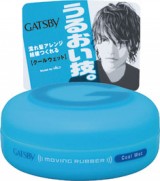 Japan's top-selling men's hair wax is now available in London stores, according to a press release dated 5 February.
Gatsby is a popular men's grooming brand in many countries, and has now set its sights on the British market. Its number-one product, Moving Rubber, enjoys a market share of over 70% in Japan.
Since its launch in 2006, over 100mn units of the hair wax have been sold in more than 10 countries and regions in Asia.