How two wheels help lose weight, make friends, travel and save the Earth
After battling back from an injury that could have completely derailed his road-race cycling ambitions, James Machin is keen to develop the sport here in Japan even further. And part of that plan involves building a professional team that is competitive in the domestic cycling races and, eventually, across the continent.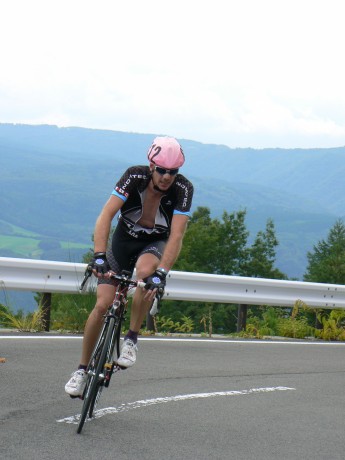 "I've been cycling seriously pretty much all my life and am the fourth generation of professional cyclists in my family", said Machin, 36, who is originally from Portsmouth, Hampshire. "I started out racing BMX bikes and then moved on to mountain bikes, riding in regional and national championships on cross-country mountain bikes while also riding for the Worthing Excelsior team.
"But then I broke my knee in a fall and that ended all thoughts of taking things a step professionally further in the UK".
After moving to Japan 10 years ago, his wife Kaori encouraged him to see a doctor about his slow-healing injury and he was eventually referred to the Japan Olympic team's surgeon, who quickly found a piece of bone floating under his patella.
After surgery, he found that rehabilitation and getting back in shape for racing was a long road.
"When I first came to Japan I weighed 74kg; that had risen to 98.9kg and I was in terrible shape", he admitted. "I would get out of breath walking up the stairs. Another reason that I really wanted to get back on the bike was the realisation that I was not able to play with the children".
After building up strength and stamina—and shedding the kilos—Machin joined the Tokyo Cycling Club in early 2009, and began to explore the mountain roads on the outskirts of Tokyo.
"I entered my first race here in August 2009, the King of Endurance Japan race at the Nissan Stadium in Yokohama", he said. "It's a five-hour endurance race in a 6km loop around the stadium and outlying sports facilities. It's a pretty monotonous course and the weather was terrible, but I came in sixth out of more than 200 racers and took that as proof that I was on the right track".
Machin entered a series of races, building up his reputation from scratch as a relative unknown, before taking part in the first race of the 2010 season, the Kawagoe Criterium.
"It's a short but technical course of 1.5- km laps, chicanes, 90-degree bends—and when you have 60 guys doing 55kph, you have to be on the ball and committed", he said. "The race includes prime laps, where you spring for extra points, meaning that you can win the race but not the criterion.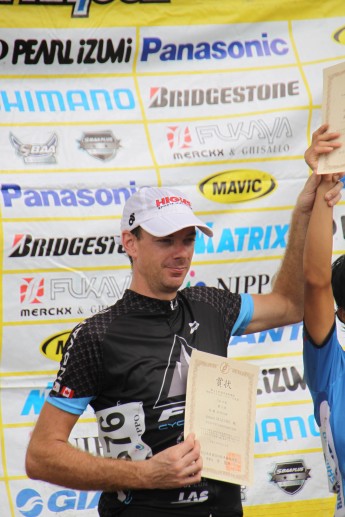 "I won the race and the criterion, was featured in the Nikkan Sports and caught the eye of a couple of teams", he said. "I was on the podium in the next race again and was approached by Fuji-Cyclingtime.com".
Impressed by his podium finishes over the next three races, the team invited him to join in May 2010, and shortly afterwards he took part in the Grand Prix Chantal Biya race in Cameroon—named after the wife of that country's president— that is part of the Union Cycliste Internationale (UCI) Africa Tour.
Suffering from food poisoning and fatigued from travelling, Machin completed stages of between 120km and 180km every day over five days, and helped the team to a respectable overall finish and was one of the racers taking the King of the Mountains stage jersey.
Back in Japan, Machin says the sport here is booming—but there is still huge scope for expansion, both in terms of professional teams and as a pastime for anyone who is looking to get fit and not leave a carbon footprint.
"I'm working as a consultant in the sport and business is booming here", he said. "This is the new golf. Golf is considered the sport of the old guard and people are now spending a lot of money on their cycling equipment. You can get a bike for ¥10,000, but there are bikes that cost the same amount as a car.
"It's a sport that brings people together and there's a great camaraderie", he added. "People are also becoming a lot more aware of their own carbon footprint, while companies are also encouraging their staff to ride a bike to work.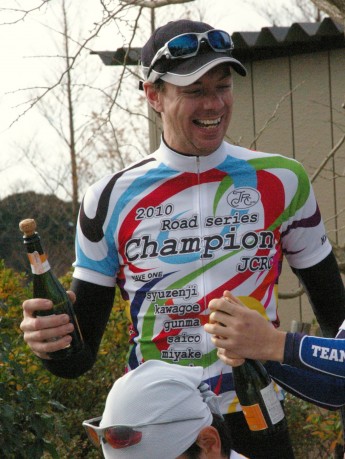 "Sponsors such as big airlines and petroleum companies have a big carbon footprint, and they are increasingly supporting bike racing".
Machin is hoping to drum up support among sponsors for a professional racing team that would develop the sport and the most talented riders here, giving them a stepping stone towards a shot at the top prizes in the sport—the Tour de France and the Giro d'Italia.
"Japanese racing is very different from that of Europe", he added. "What I will be bringing to the team is a large step into the world of professional and semi-professional cycling.
"It's a big shock to many riders, and the team I plan to develop will introduce them to the idea that they have an obligation and responsibility not only to the team, but also the sponsors; that every minute they spend on and off the bike is important; and that it could make the difference between a podium finish and an also-ran.
"Many riders here come with the 'cycling club' mindset and this is a way of introducing them to the massive difference between club and profession", he added.
"There are very few professional Asian racing teams and my focus would be to start here in Japan, but I do want the team to be competitive and to take part in the UCI Asia Tour".