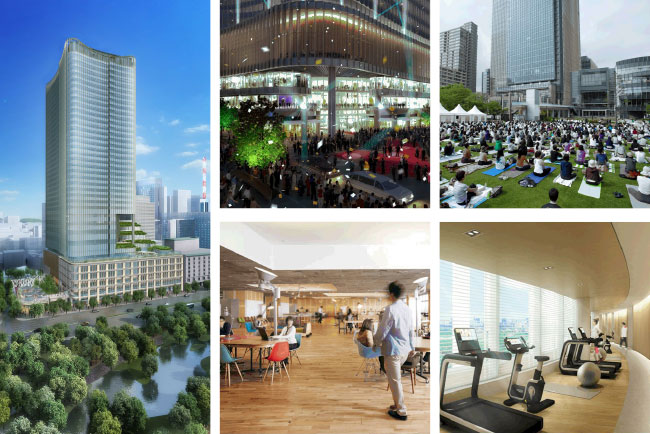 Since the advent of Abenomics, the Tokyo market for rented office space has been strengthening, with vacancies currently as low as 3.9% in August, according to office brokerage Miki Shoji Co., Ltd. Part of the reason for the upturn is the Bank of Japan's ultra-loose monetary policy, its effect on inward investment, the value of the yen and business spending habits. However another strong driver for the office market is a changing work culture, developments in IT, as well as business challenges faced by companies.
Because the boundaries between work and life are fading, the office is no longer just a place to work. Nowadays, people just as easily can work from home or a "third place" such as a café or a park. But that also means an individual's private life becomes ever more integrated with their workplace, according to Joris Berkhout at Mitsui Fudosan.
At the same time, the demographics of Japan have resulted in a real challenge for many firms' staff recruitment. In particular, an increasingly diverse workforce—in terms of gender, culture and age—requires new approaches and ideas.
As a result, many global firms in Japan are adapting their work cultures to accommodate a more diverse workforce, spark creativity and increase employee motivation. But recruiting new employees and communicating the corporate brand to the market can prove to be difficult. To provide an office space that will help business face these challenges, Mitsui Fudosan—Japan's largest real estate developer—is creating new office concepts and services in its future projects. And that's because, in short, real estate is no longer just about the office space.
Several years ago, the development of large mixed-use complexes such as Tokyo Midtown in Roppongi started this move-ment. Shops, restaurants, housing, hotels, medical clinics, art, outdoor spaces and other amenities are essential when work and life become more intertwined.
At the same time, these mixed-use complexes provide the ideal platform for firms to take advantage of the brand value of the building. For example, Mitsui Fudosan works closely with tenants to organise events, marketing campaigns and promotion.
And through future projects, such as the new Hibiya development next to Hibiya Park, the mixed-use concept will be advanced even further. To really create the workplace of the future, amenities are a key factor. A gym, showers, lounges for both work and relaxation, free space and meeting rooms for clients will all form a natural extension of a tenant's office. Providing these amenities in the common area of the building reduces the space needed for each tenant's area and also allows for more flexibility.
These changes in attitudes to work mean that, for real estate developers such as Mitsui Fudosan, the mission is now not only to provide clients with office space, but also to provide businesses with the tools they need to help them grow.