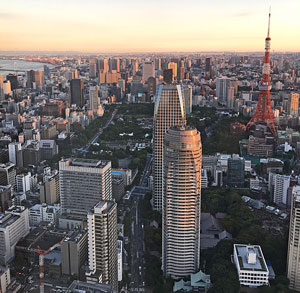 Tokyo Governor Yuriko Koike has a message for foreign multinationals and their high-flying executives: the city wants you back.
"Tokyo's position in the financial world is declining", the recently elected independent reportedly told Prime Minister Shinzo Abe. "I want to give it a boost by utilising special zones".
Tokyo has seen its competitiveness lag in recent years, with many foreign multinationals preferring to set up their regional headquarters in Singapore or Hong Kong. Their lower taxes and pro-business regulations have seen them supplant the world's largest and richest city—but there is hope that new incentives, along with international events such as the Tokyo 2020 Olympic and Paralympic Games, might help draw them back.
In an August interview, Koike told the Nikkei financial daily that she was ready to make Tokyo "the financial hub of Asia again". She flagged measures including making the city more English-language friendly, being more accommodating to families with children, improving international schools and implementing a "transparent, reasonably low tax rate". And such moves have precedent.
Launched in 2011, the Tokyo Metropolitan Government's Special Zones for Asian Headquarters offers a range of incentives and support for foreign firms establishing operations in five areas. These comprise the northern portion of Tokyo Bay, stretching from Roppongi to Odaiba; Shinjuku Ward; Shibuya Ward; the district between Shinagawa and Tamachi stations; and a vacant site formerly used by Tokyo International Airport Haneda.
The plan is designed to bring in more than 500 foreign firms, of which at least 50 in the special zones are expected to establish regional headquarters there by the end of fiscal 2016. Currently, there are an estimated 2,300 foreign-affiliated firms in Tokyo, a number that may also grow following a programme to increase foreign entrepreneurs that the city introduced in January to encourage more foreign startups.
Nevertheless, Tokyo has its work cut out in matching the efforts of regional rivals. According to a recent report by real estate firm DTZ/Cushman & Wakefield, Singapore remains the most attractive Asia–Pacific destination for multinationals' regional headquarters due to its economic and regulatory environment, followed by Hong Kong and Shanghai.
The favourable corporate tax rates in these business centres—Singapore's 17% and Hong Kong's 16.5%—are in sharp contrast with Japan's 32.26% although, according to professional services firm KPMG, if reform proposals play out as planned, Japan's corporate tax rate will fall below 30% beginning in 2018. The ease of doing business, according to the World Bank's Doing Business 2016 report, ranks Singapore in first, Hong Kong in fifth and Japan in 34th place.
That said, Hong Kong has been rated the world's most expensive city in which to rent high-rise office space. It had an average annual office rent of US$2,998 per square metre in the second quarter of 2016, compared with Tokyo's $1,609 and London's $1,227. Meanwhile, Singapore's rate of $775 is the same as that in Shanghai, according to the "Skyscraper Index" in Knight Frank's September 2016 issue of its Global Cities.
In Japan, negative interest rates and the tourism boom have seen commercial land prices rise nationwide for the first time in nine years, although residential land prices still posted a slight decline overall, according to the latest annual report put out by Japan's Ministry of Land, Infrastructure, Transport and Tourism.
Commercial land in the major cities of Tokyo, Osaka and Nagoya rose an average 2.9%, while residential land prices rose 0.4%. In the second quarter of 2016, Tokyo Grade A office space had a vacancy rate of just 1.9%, compared with 4.8% for the same period a year earlier, according to commercial real estate services firm CBRE Japan.
Expat havens
Real estate-related firms surveyed for this article said they had yet to see a surge in British executive arrivals in the wake of Brexit. However, for those who are planning a move, a number of areas have become known as foreigner friendly.
"The majority of expats live in Minato [Ward]—I would estimate over 85%—while Shibuya and Meguro [Wards] are also popular. Due to earthquake safety concerns, the majority prefer newer apartment buildings with up-to-date building safety codes", according to Dennis Muldowney, general manager of relocation firm Crown Worldwide Japan.
Muldowney said his firm had seen a 10% year-on-year rise in the number of expats coming to Japan in 2016. This reflects the expat market's continuing recovery following the Lehman shock of 2008, and the 2011 Great East Japan Earthquake and Tsunami.
"People and companies realised that you still need a presence here—you can't just run away" from the world's third-largest economy, said Martin Fluck, director of operations, North Asia at serviced apartment provider Oakwood.
With the increase in foreign executives, certain areas look set to benefit given their respective advantages and highlights.
Kenneth Arbour, director of Tokyo Orientations, said the districts of Azabu and Hiro were generally recommended among expats, although families seeking proximity to international schools might prefer other areas.
"Central Tokyo is mainly apartments. Generally, if you want a house, you have to go outside the Yamanote [railway] Line", he said.
Housing Japan's Robin Sakai said neighbourhoods such as Akasaka, Azabu and Roppongi remain popular with expats due to their proximity to major business centres and established international communities—including clubs, schools and shops catering to global tastes.
He said major new property developments had been designed with international businesses in mind, including Mori Building's Toranomon Hills skyscraper complex, and that even more are being planned.
"These developments have renewed several former industrial neighbourhoods and created an atmosphere where foreign clientele are actively welcomed and embraced, whereas historically that may not always have been the case", he said.
Olympic boost?
The 2020 Olympic Games and 2019 Rugby World Cup are expected to prompt another surge in international tourists, with Japan eyeing 40 million foreign visitors by 2020, double the previous government target.
"There is a certain feel-good factor from these major international sporting events that brings a much-needed optimism and attention to Japan", Muldowney said. "Hotels and serviced apartments will see high demand and room prices go up for the events … and property prices will continue to rise and rents along with them".
Sakai agreed, saying the city "is in a powerful position through the 2020 Olympics and beyond.
"It is still the richest metropolis in the world, it possesses a large and highly talented population, it is home to a number of world-leading companies and its arts are firmly established as cultural leaders across Asia. With foreign involvement with the property market now also being welcomed, all of the groundwork is in place for Tokyo property to be a key pillar of the international real estate market".