From Clapton to The Bongolian, Muse, The Rolling Stones, Beverley Moore, Neon Plastix and even Susan Boyle, British music rocks.
To underline the depth and breadth of talent in the UK, a mission of 15 firms visited Tokyo in early October to promote bands, labels, studios and management services. It was the eighth British Music Mission to Japan.
"From the Beatles to present-day stadium-fillers such as Coldplay, Radiohead and the Arctic Monkeys, UK music and musical styles have always made a mark in Japan, at all levels", said Julian Wall, director of international events for the British Recorded Music Industry (BPI).
"The essence of our event is to continue doing this through new and innovative companies, with a lot of great music to sell".
The centrepiece of the mission was an event for the Japanese music industry in Tokyo that included presentations by the British delegates about their artists and services, as well as an opportunity to bring the two sides face-to-face. The British firms also took part in panel sessions and workshops involving music experts from both major and independent Japanese firms, including EMI Japan, Sony Music Publishing and Universal Music Japan.
"These trade missions exist to help British music export overseas, and they can come to a particular territory and meet directly with individuals who are involved in that market and also learn from that market", said Wall.
"Every market is different and it is easy, I believe, sitting in the UK to think that it is simple to access these markets remotely or through various other ways. But there is no substitute for direct experience and direct contacts", he added.
Given the disasters that Japan suffered in the early part of 2011, he said, it was "very important" to show both the Japanese and UK music industries that business is still being done here.
Japan traditionally has been a key market for British bands. In 2010, UK artists accounted for almost 22% of the international artist market in Japan and were behind 12% of global sales of recorded music.
Some 20% of the top 50 albums sold worldwide in 2010 were by British artists. In March, the UK held the top three positions in the US Billboard charts, while the UK is the second-largest exporter of music in the world, after the US.
"The Japanese, thankfully, have a soft spot for British music and culture", said Wall. "The Beatles played here in 1966 and we have never looked back in terms of our exports of music".
This was demonstrated by the number of British acts performing at music festivals here this summer, as well as the UK acts in the charts.
"The Japanese market is our third-largest and we have mastered albums for Ayumi Hamasaki, Sugizo, Hotei, Rip Slyme and many more", said Ian Brenchley, marketing manager for Chiswick-based Metropolis Group. "We are looking to meet artists, record labels, artist managers and production companies in Japan so that we can work with more Japanese artists and grow".
Graham Stokes, chairman of Conehead Management, took part in the mission: "Our goal now is to find partners around the world for our product, with Japan being one of the key targets".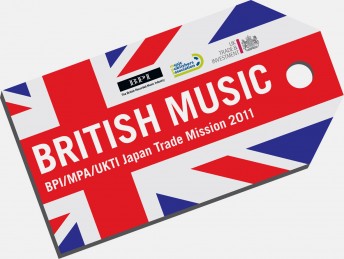 Other firms included Best Before Records, Big Sky Song, Blow Up Records, Incredible Management, and Sounds of Caligula.
"We are very lucky in the UK that our music travels the world and it has done so since the Beatles", said Wall. "Britain currently delivers about 10% of world sales in music which, for a country of our size, is astonishing.
"We are lucky that the UK has a steady stream of acceptable and commercially viable music and, from that, we can travel to countries with resilience and the belief that what we are going to be delivering is wanted and is going to be commercially very successful", he said.
"British music is an enormously valuable commercial resource for the country", he added. "The creative industries generally are [valuable] for the UK, but I would suggest that music sits at the very top of that tree".
"We are looking to meet artists, record labels, artist managers and production companies in Japan so that we can work with more Japanese artists and grow".