The inside story of fine wine investment
"The greatest wines represent the ultimate liquid investment", said esteemed US wine critic Robert Parker Jr. They also make for excellent enjoyment, as was the case at the BCCJ's Berry Bros. & Rudd (BBR) En Primeur Bordeaux wine tasting held at the Shangri-La Hotel, Tokyo on 3 March.
BCCJ members were treated to an array of six fine wines including the stylish 1996 Chateau Lynch-Bages, 5ème Cru Classé, Pauillac and a sublime 2002 Chateau Mouton-Rothschild Pauillac, while learning more about wine storage and investment opportunities from the BBR Sales and Marketing Director Simon Staples.
Clearly enthusiastic about the opportunity to share an aged Bordeaux First Growth tasting with BCCJ members, Staples brings a relaxed, down-to-earth approach to the world of tasting wines. His investment advice is simple. He says that "Wines go up and down in value, but En Primeur will always offer exceptional value. The 1996 Lynch-Bages, for example, started at £18 a bottle. Today it is valued at £130. When buying or selling wine, you've got to know where the wine comes from, where and how it is stored. Provenance is very important — we are already seeing some fake wines appear. And then, of course, you can't ignore the effect of Robert Parker's rating — it has to have 90 points or more to make it an excellent investment".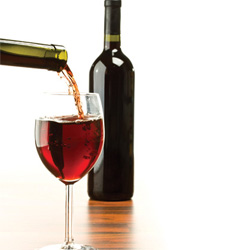 Providing reliable advice is clearly BBR's speciality. As one of the world's oldest wine merchants (established in 1698), the firm has a busy team of in-house experts who travel regularly to the world's leading wine estates, developing their wealth of knowledge and experience and passing it on to their customers. The firm, still owned by the Berry and Rudd families, has its own state-of-the-art storage facilities in Basingstoke, Hampshire, and is renowned for its informative easy-to-navigate website.
It helps immensely to know which wines are best drunk now and which are likely to emerge as stellar value after a few years' careful storage. Staples, who has focused his 13 years at the firm on building its reputation as one of the foremost buyers and suppliers of the world's finest wines, particularly red Bordeaux, is especially excited about the opportunities the Asian market offers.
"There has always been a market for drinking and selling wines, but more recently there has been considerable interest from new markets like China. This means that older wine markets have begun to invest in the wines very early on — before the wines get to Asia. The potential is huge. The top 100 Bordeaux estates only account for about one million cases of wine, so if these new markets take off, there won't be much wine available, creating an excellent opportunity. We simply pass on the advice at the earliest opportunity — we also buy the wines we recommend to our customers", he adds.
Although Staples is careful to warn caveat emptor, most wine connoisseurs take consolation in his observation that whatever happens to the world economy, this is one investment that can always be enjoyed, which is probably why one of BBR's most popular sales sectors is dedicated to wine invested in by parents for their children to enjoy or sell in years to come. "All the vintages have gone up in price over the past 18 months", says Staples. "Most people invest for two to 10 years and, at a cost of £10.80 per case per year, including full market insurance at replacement value, it represents a good investment.
Back to En Primeur: a method for investing in wines early where wines that were harvested in October one year are available for tasting from April the following year, before prices are confirmed. That is the cheapest time to buy, explains Staples. "What then tends to happen is that there is a hiatus of two years while the wine sits in bottles, and as soon as it becomes available physically the prices increase".
But it is not necessary to pay large sums for everyday enjoyment of a good red wine, said Staples, as BCCJ members were introduced to a 2005 Pulenta Gran Corte from Argentina at a fraction of the cost of other wines already tasted. "This is a staple in my house and on price [about ¥1,480 a bottle] it is great value and goes well with pizza".