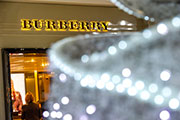 The UK-based Burberry Group plc has set its sights on Japan for future expansion, The Guardian reported on 21 May.
The luxury fashion house reported record sales and profit in the 2013–14 financial year.
Recently appointed Chief Executive Officer Christopher Bailey said the team was excited by the opportunities in Japan, which has the second-largest luxury market in the world.
Burberry is in the process of building brand awareness and plans to open three new flagship outlets in Tokyo and one in Osaka.