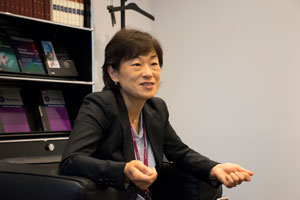 Mari Nogami is your model international working mother. She has raised two children while developing her career across the globe and is now at one of the UK's largest firms in the pharmaceutical industry, about which she is passionate.
With 20 years under her belt at Proctor & Gamble Japan K.K., she joined AstraZeneca UK Limited where she worked in senior executive roles in both Japan and Sweden. She has now returned to Japan as the firm's vice president, commercial excellence, where she will oversee various support activities for sales and marketing in the country.
BCCJ ACUMEN spoke with Nogami about her thoughts on how women can challenge the status quo in Japan, what she has learnt about working in the UK and Sweden, and what her plans are for her new role.
Working mum
Nogami could be considered the ideal case study of a working mother, given how expertly she has balanced family life and work.
"I tried to leave meetings and I tried to be at home for my family commitments—I raised two kids and I thought I had the best life–work balance in Japan because I spent so much time with my family", she explained.
However, when Nogami moved to Sweden, she found an even better balance.
"I was so surprised that it's almost a norm in the office that at 4pm on Friday no one is in the office because their priority is having dinner with their family and they do extra activities on Fridays", she said.
The Swedish mindset towards work greatly differs from that in Japan, and a crucial part of this she believes is to do with guilt.
"When you live in a society where people have absolutely zero sense of guilt about their work-related activities, it dramatically changes how you behave", she said.
This way of thinking also influences the attitudes of the female working population. The cost of living in Sweden is very high, and this is another factor that contributes to women's motivation to work.
"I talked with a lot of British people in the office to see if this type of lifestyle is a European norm, or if it is just Sweden. I found that the UK is in between Sweden and Japan", she added.
The Swedish government also makes efforts to support society as much as possible, including through its tax system. This is in stark contrast with Japan, where ¥380,000 is deducted from the taxable income of the head of the household (often the husband) if their spouse earns ¥1.03mn or less a year. This means many Japanese women will choose to take on part-time jobs and fewer hours to avoid losing out on the tax break.
She also highlighted favourable holiday systems in Europe, and the Swedish government's incentive for more women to go out and work by offering half-price housecleaning services.
But Nogami, recognising that the Japanese government is making efforts to change the country's work–life balance, gives as an example Premium Friday, when firms are encouraged to let employees leave work at 3pm on the last Friday of the month.
"I found it a great incentive on the part of the Japanese government, because people need motivation. In Sweden, the reason people go home early is because they want to go home, but in Japan you have to incentivise them.
"Many of the middle-aged or relatively senior men in Japan don't have an incentive to go home because there is no space for them", she laughed.
She added that there is a still silent pressure from those in senior positions within the firm for more junior employees not to leave the office before their seniors.
However, whatever solutions the government finds, she says the system must take into account the need for improved productivity.
Nogami has found that AstraZeneca both globally and in Japan has a great system to accommodate a working mum's needs, including flexible work hours and the option to work from home.
Working abroad has certainly played a part in changing Nogami's mindset, helping her to realise she did not need to be driven by social norms. Being able to spend more time with her children was one particular aspect that highlighted this.
From the outset, AstraZeneca ensured that each move was made easy, even helping with finding schools for her children.
The industry
Nogami has big dreams for her new role at AstraZeneca. With so many innovations and new drugs making their way into the industry, she sees opportunity for growth. In particular, she highlighted oncology, where research and development is being conducted on a range of new drugs and treatments.
"Now I am in the process of discussing with the business unit what service they need and what expertise they need to make sure that we do what the unit cannot do and grow the business".
Looking at the pharmaceutical industry, Nogami believes that it has great potential for women.
"I see a lot of opportunity for female scientists to really work and leverage their strengths", she explained. "Pharmaceutical jobs are more information-driven and more scientific knowledge-driven, and that's where women can actually play a huge role".
Nogami also believes another aspect of the job that might be appealing to mothers such as herself is that "working in the pharmaceutical industry is a unique experience, because from day one your job is all about helping people".
With recent events in Silicon Valley involving sexism and sexual harassment, BCCJ ACUMEN asked how these issues are dealt with at AstraZeneca. Nogami revealed that the firm has its own international hotline for sexual harassment should any such problems arise.
"What I found after moving to the pharmaceutical industry is that you need to have a high degree of compliance because of the nature of the business". This includes quarterly compliance meetings, she explained, and education plays a crucial role in prevention.
The firm continues to be an advocate for diversity and inclusion, and a good work–life balance, helping employees such as Nogami to have the best of both worlds.
"We should keep challenging the social norms, and I think that even the BCCJ and foreigners coming to Japan should question these norms".