For many Brits embarking on a life in Japan, arriving in the country creates a distance from family back in the UK, even in this era of digital connectivity. But for Kate Fahie, account director at brand activation agency Geometry Global, moving to Tokyo has seen her draw closer to a side of her family in a way that previously she never would have imagined.
That's because Fahie's great, great grandfather is Sir Claude MacDonald, the first British ambassador to Japan. Based in Tokyo from 1900 to 1912 with his wife Lady Ethel, Sir Claude was in his post throughout a particularly warm period in UK–Japan relations. And his presence can still be felt today at the ambassador's residence.
After being put in touch with Sarah Madden, the wife of current British Ambassador to Japan Paul Madden CMG, Fahie was able to visit the embassy and see some of the traces her relative had left. That is her latest step in researching her ancestor and her family's connection to Tokyo since she moved to the city last year.
Then, at a welcome reception hosted by The Japan–British Society for Ambassador Madden in March, Sarah happened to mention to BCCJ ACUMEN Publisher Simon Farrell the intriguing tale of Sir Claude and his modern-day descendent, which led to this story being featured.
Family tales
Fahie had some awareness of who her great, great grandfather was, not least because of the array of magnificent paintings and ornaments he had collected in Asia, which have been passed down through the family.
"I knew about him being here, I knew that he was a diplomat, I knew that he had been a part of the Japan–British Alliance at a very important time in Japanese history", said Fahie.
"I knew about his time in Beijing, probably more than I knew about Japan, because it's obviously easier to tell children that your ancestor was part of a film—55 Days at Peking was one of the regulars in the house, but obviously there's a certain amount of Hollywood embellishment that goes on", she added.
The film is based on the real life 1900 siege of the international legations in Beijing by an anti-Christian, anti-foreign movement backed by the Qing government as part of the Boxer Rebellion, and a part based on Sir Claude was performed by English actor David Niven (1910–83).
Due to his military background, Sir Claude played a leading role in the defence of the Legation Quarter during the 55-day siege. Such were the odds stacked against them that obituaries for Sir Claude and Lady Ethel were published and preparations for their funerals were put in motion.
Following the siege, Lord Salisbury, the prime minister, offered Sir Claude a period of leave ahead of being reposted to Japan.
"The solicitude of Her Majesty and your Lordship with regard to my health calls for deep gratitude. The anxieties and hardships of the siege do not, however, appear in any way to have caused my health to suffer", he replied.
It was during this time in Beijing that Sir Claude developed a friendship with Goro Shiba, a samurai from what is now Fukushima Prefecture who later became a member of the Imperial Japanese Army. As military attaché to the Japanese legation, he played a leading role in the siege. Indeed, the bond between the two men played a role in the establishment of the good bilateral relations that were blossoming.
Gone fishing
Although two of Fahie's aunts were a constant source of family stories, one in particular about Sir Claude has come to the fore.
"It turns out that when Sir Claude and Lady Ethel were here, they were to make a gift to the Emperor. But what does one give a living god? He came up with the idea of giving wild brook trout eggs from Colorado and bringing them over and releasing them into Lake Chuzenji in Nikko, where the British Embassy had a villa", Fahie explained.
"So they released the eggs and they survived, so all of the trout up in Chuzenji today are the descendants of the fish that were there thanks to my ancestors, which is quite entertaining".
In fact, Sir Claude's contribution to Lake Chuzenji provided a springboard for Fahie's attempts to connect with her past.
As a member of a fishing club in France, Fahie's father was invited to go fishing in Japan in 2008 by one of his fellow members, who was Japanese. That, in turn, brought back memories of Sir Claude's gift a century earlier.
"My father went up there to go fishing and he caught one, he says, and he also went and saw the crates in which the eggs were imported at the former Imperial Hatchery near the villa", said Fahie.
While in Japan, Fahie's father was able to visit the British Embassy Tokyo following correspondence with Sir Graham Fry KCMG, then the ambassador. That visit would later prove fortuitous, as it would enable Sarah Madden to track down a stone laid by Sir Claude in the embassy's gardens using a detailed description supplied by Fahie's father. Positioned next to some cedrus deodara trees, the inscription on the stone reads:
"Seedlings of 1904, the year of the Russo–Japanese war.
Presented to H.E. Sir Claude MacDonald British Ambassador from Viscount Masando Inata Master of the Ceremonies".
During her visit, Kate Fahie presented Paul Madden with a copy of Imperial Servant: The Life and Times of Sir Claude MacDonald by Sylvia H Siegler. Written as a PhD thesis at Claremont Graduate University in the United States, that copy is now held in the embassy's library. And the light now being cast on Sir Claude's life has piqued Sarah Madden's interest in the embassy's history.
"I had seen the wall of photographs of previous ambassadors in the library, but not really taken note of the names of the very early ones. But once you meet their descendants, it reminds you they were real people, not just sepia faces with fine whiskers", she said. "Since Kate's visit to the residence and tracking down the engraved stone in the garden with Sir Claude's name on it, it has certainly made me wonder if there are many more hidden treasures around".
Playing detective
Fahie said that she is still developing a sense of Sir Claude's character, but she continues to work towards a better understanding of him, even if a heavy workload often gets in the way.
"It is still slightly abstract, but little by little I am starting to see things around me that randomly pop up—print works, or if I visit a museum I go, 'Ah, that's the same year as my ancestors were here' ", said Fahie.
"In this modern age where we're used to recording everything and everything is documented, it's quite fun putting the pieces together, doing a bit of detective work—a lot of it is there, I just need to find it and read it".
Sir Claude MacDonald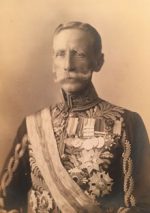 Born in 1852 in India to a major general in the British Army, Sir Claude was educated at Uppingham School and the Royal Military Academy Sandhurst, and joined the army in 1872. Stints in Afghanistan, Egypt and Sudan followed, before Sir Claude retired from the army in 1887 according to an edition of The San Francisco Call published in June, 1901.
It was then that he began his career in the Diplomatic Service, with a posting first at Zanzibar in east Africa and then at the Oil Rivers Protectorate (later known as the Niger Coast Protectorate) in present day Nigeria—the latter posting was widely considered to be the most uncomfortable and unhealthy in the whole of the British Empire. In 1892 he was knighted, and in the same year married Lady Ethel.
Sir Claude's Asia career began in 1896, first as minister in Beijing where, in addition to his role in the siege of the foreign legations, he also secured the lease of Weihaiwei in eastern China, and obtained contracts for British firms.
He also played an important part in the Second Convention of Peking, which was forced on China following its further weakening as a result of the First Sino–Japanese War. This granted Britain the 99-year lease of the New Territories of Hong Kong. While MacDonald considered the length of the lease as good as forever, according to Diana Preston in her book The Boxer Rebellion, it later caused complications when the British and Chinese governments began negotiating the handover of Hong Kong in the late 1970s. He also proposed a border between British India and China, which now serves as the basis for the border between China and Pakistan.
In 1900 he took up the post of consul general for Japan, swapping positions with the eminent Japanologist Sir Ernest Satow in the process. He would become the first British ambassador to Japan in 1905 after both countries raised the status of their respective legations to that of embassy, and held the position until 1912, when he retired.
Sir Claude's tenure coincided with warm relations between Britain and Japan, with the first Anglo–Japanese Alliance being signed in 1902. Two further alliances were signed in 1905 and 1911 but, although Sir Claude was made a member of the Privy Council in 1906, he did not play a significant role in their negotiation, according to British Envoys in Japan 1859–1972. Nevertheless, he came to be seen as a symbol of the alliance in the eyes of the Japanese, a fact that partly explains the length of his tenure.
In addition, his military background—for which he was viewed with suspicion by diplomatic service colleagues—made him well suited to the role in Tokyo, due to the significant part the military played in Japanese political life at the time. The embassy would also become an important place in the Tokyo social scene, with frequent visits from cabinet members, admirals and generals, and Lady Ethel was a popular figure.
But by the time Sir Claude was preparing to leave Japan in 1912, the relationship had begun to turn to one of suspicion. That year was also a traumatic one for the country, due to the death of the Meiji Emperor.
Sir Claude passed away from heart failure in London in 1915.