The first EU ambassador under the European External Action Service (EEAS) framework and head of the Delegation of the European Union to Japan talks on trade, politics, the death penalty, child abductions and his goals.
Have you settled into your new post yet? How does it feel to be back in Japan?
That's difficult to say as I have barely been here more than two weeks, but since I was here before it is a case of coming back to a familiar place with an unfamiliar job. But I'm very happy to be back, particularly as we now have a new framework with a newly defined job description under the Treaty of Lisbon. This is a great challenge and opportunity for me.
What are the key trade, political and social issues that you face, in order of importance?
We have for quite some time felt that, while Japan and the European Union have a framework for cooperation, collaboration in both the political and economic arenas was not what it could and should be, given that we have so much in common. So we have decided to try to create a new framework to define the future of EU-Japan relations. The EU believes we should take a holistic approach to address issues of political cooperation. Some we are doing already, such as building infrastructure and society in Afghanistan, the Middle East and Palestinian territories. We would be interested to see Japan more closely associated with some European peace-keeping and peace-building efforts, where Japan shares aims almost identical to our own. There are a number of global issues about which we think similarly, such as nuclear non-proliferation from Iran to North Korea, and climate change. Also, we could cooperate more closely in development assistance, for instance in Africa. We would also like to see each other in more strategic terms. And I mention the economic area last, but only because we sometimes focus only on that. It's as if an economic partnership agreement (EPA) or free trade agreement (FTA) are the only issues to be discussed with regard to the future. We agreed last year to discuss all the issues I've mentioned in parallel, and to present options on how to proceed. An FTA will be one of those options, but not the only one.
What is the state of FTA talks between Europe and Japan?
We are in the midst of a negotiating process, but not in pre-negotiations for an FTA. We are trying to come up with an option paper for the leaders' summit, at which a decision can be made. I know that on the Japanese side, both government and business present it as if we are on the verge of entering FTA negotiations, but the EU is much more cautious because we have made it very clear that this is not only about reducing tariffs; we want to see it lead to a balance of interests and improve market access for European firms that would deliver benefits equal to those for Japanese car and electronics manufacturers in Europe if we reduce tariffs.
What is the biggest obstacle to this process?
There are two areas in which Japan is very interested in having the same market access conditions as South Korea—cars and electronics—but the issue in Japan is not tariffs. Generally speaking, for the main areas of European exports the hurdles are non-tariff barriers. For many years, we have had a dialogue with Japan about better market access, but progress has been quite limited. For example, total foreign investment into Japan is about 3% of GDP, which is much lower than for any other OECD nation. In some of the key sectors where European industry is very competitive, such as vehicles, railway equipment, aircraft and financial products, if we were to measure the obstructions presented by non-tariff barriers, they would account for up to 45% of tariffs. We would like to see a clear indication that this situation is changing in a sustainable way. There have been some declarations by the Japanese government that reflect very strongly their commitment to opening their market and we are watching that with great interest. There are some encouraging signs, but they have yet to be translated into specific action.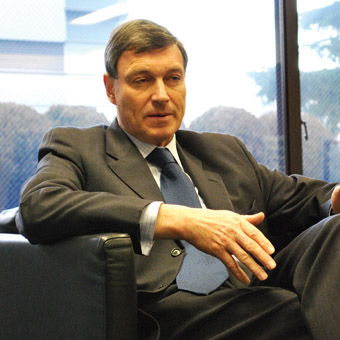 From where else are you receiving support?
One interesting aspect of European economic interests in Japan is their representation by the European Business Council (EBC). The EBC releases a white paper every year that provides a very good overview of the wishes of European industry. That was summed up well by EBC Chairman Tommy Kullberg when he said that European industry is not looking for favours in Japan; it just wants a level playing field. That is something that has our support.
How would you characterise your working relationship with the Japanese government?
I believe that, since last year, we have a new situation on both sides. In Japan, there was a new government and in the EU we have a new institutional set-up since the Lisbon Treaty came into force and the EU declared that it intends to place more emphasis on strategic partners in a more coherent way. There is a willingness on both sides to work together and elevate the relationship to a higher level, and I believe we just need to make that operational.
Will the recently announced changes to tax laws for foreign businesses be enough to attract major investment , or do they fall short of what the EU had sought?
Any measures taken by the Japanese government to support the presence of foreign firms in Japan, and to facilitate their business interests here are very welcome. I understand this is just a proposal by the Ministry of Economy, Trade and Industry at the moment and we are in the process of finding out more, but it is an encouraging announcement.
Do you have the feeling that Britain is sufficiently committed to the EU and might one day join the euro?
I believe these are two slightly different issues. I don't think there is any question about Britain's commitment to the EU which, through the UK's membership, has become a stronger force in the world. And that, in particular, includes Japan, with which the UK has a long-standing relationship. Regarding the euro, when the Maastricht Treaty was negotiated, the UK opted out of the single currency, so it is up to Britain whether it wants to join. But regardless of how that plays out, we see very strong support from the UK for a stable euro-zone and that is in everybody's interests.
Do you plan to discuss the issue of the death penalty with the Japanese government?
This is a long-standing issue, and the EU and its member states continue to engage the Japanese government and present our views on the death penalty. We will not change our position and I believe we have seen some movement on the issue recently. What we are trying to do is to reach out and explain why the EU opposes the death penalty and, in that way, maybe reach a wider audience than just the government. I also believe we should not overlook the fact that in Japan there is an important group of politicians who oppose the death penalty and they are also partners with whom we can work on this matter.
Are you hopeful of meaningful change in the area of child abductions by Japanese parents from EU citizens and the Japanese government's refusal, so far, to sign the relevant international treaties on the issue?
There is an EU dimension and, on the other hand, member states with significant numbers of cases. The EU position is that we need a framework to solve these problems, and that already exists in the form of the Hague Convention. The EU is working on this hand-in-hand with the US, Canada and other nations. We have been in discussions for quite some time, and have seen recently some movement on the part of the Japanese government.
What is your biggest ambition for the four years during which you will be in your post?
I do not wish to focus on one trade or political issue, so let me say that it would make me very happy if, in four years' time, I were able to say first, that Japan and the EU are political and economic partners working together hand in glove, and second, that when the prime minister makes a policy speech, the EU gets a full paragraph, not just a footnote.
---
Hans Dietmar Schweisgut Profile
Education: Doctorate in Law from the University of Innsbruck, Master of Comparative Law from Southern Methodist University, Dallas, Texas. Postgraduate studies at the Diplomatische Akademie Wien (The Diplomatic Academy, Vienna)
Career: Joined the Austrian diplomatic service in 1977 and served at the United Nations in New York from 1979 to 1983. Secretary and later head of the office to the Federal Minister for Public Economy and Transport of Austria for two years; became economic advisor to the Austrian minister of finance in 1986. Minister at the Austrian Embassy in Tokyo from 1987 to 1991, then director general for Economic Integration and Customs of the Federal Ministry of Finance in Vienna. Appointed ambassador to Japan in 1999, and from 2003 to 2007 served as ambassador to China. Permanent representative of Austria to the European Union in Brussels for three years to 2010, before becoming head of the Delegation of the EU to Japan in January 2011.
Born: 1951
Interests: Reading, skiing and listening to music