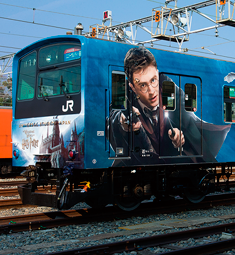 A new train featuring a Harry Potter design has started running on the JR Sakurajima line from Nishikujo Station in Osaka to Universal Studios Japan, Japan Today reported on 12 February.
The train went into operation on 1 February, in anticipation of the opening in late 2014 of The Wizarding World of Harry Potter theme park based on the British author's bestselling fantasy book series.
The train features images of Hogwarts Castle, and the characters of Harry, Hermione and Ron.