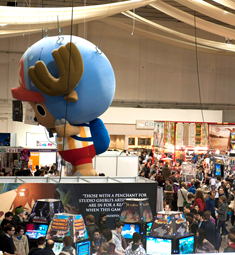 Londoners enjoy annual exhibit
Held on 23–25 November, Hyper Japan 2012 showcased Japan's vibrant pop culture, including manga, anime and J-pop; traditional Japanese culture; food and drink; stage performances and workshops.
The annual event—supported by the Embassy of Japan in the UK, the Japan External Trade Organization (JETRO) and other organisations—was first held in 2010 to help boost the reputation of J-pop, J-culture, Japanese cuisine and traditions throughout the UK.
Kazuhiro Marumo, managing director of Cross Media Ltd., the event's organiser said: "Hyper Japan is not just the UK's biggest J-culture event; it's one of the few Japan-themed events in the world actually run by a Japanese team".
The Earls Court event attracted some 46,000 visitors, the highest number yet to attend the festivities. They were able to try authentic Japanese food and drinks, and take part in sushi workshops. William Curley, four-time winner of the Best British Chocolatier award, who was featured in the February 2012 issue of BCCJ ACUMEN, introduced his fusion chocolates that were created using Japanese ingredients such as Kikkoman soy sauce and wasabi from S&B Foods Inc.
The aim of Hyper Japan, according to Marumo, is to provide a snapshot of Japan as it really is today, from its pop culture, traditions and customs, to technology, food and drink.