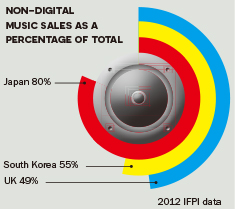 Waning music sales in Japan dragged down global sales totals in 2013, while music consumption in the UK remained upbeat, the BBC reported on 18 March.
According to figures from the International Federation of the Phonographic Industry (IFPI), the 16.7% drop in Japanese sales caused global results to fall 3.9%. Japan is the world's second-largest music market, but still relies on CDs and lacks user-friendly music-download programmes.
In Europe's five major markets—the UK, France, Germany, Italy and the Netherlands—digital music downloads rose 13.3%. Excluding Japan, the world music market remained stable with 0.1% growth last year. Vinyl records are also enjoying a resurgence.