After being characterised for several post-war decades by isolationism and stability, Japan's foreign policy has under­gone a revisionist transformation since 2012, under the leadership of Prime Minister Shinzo Abe.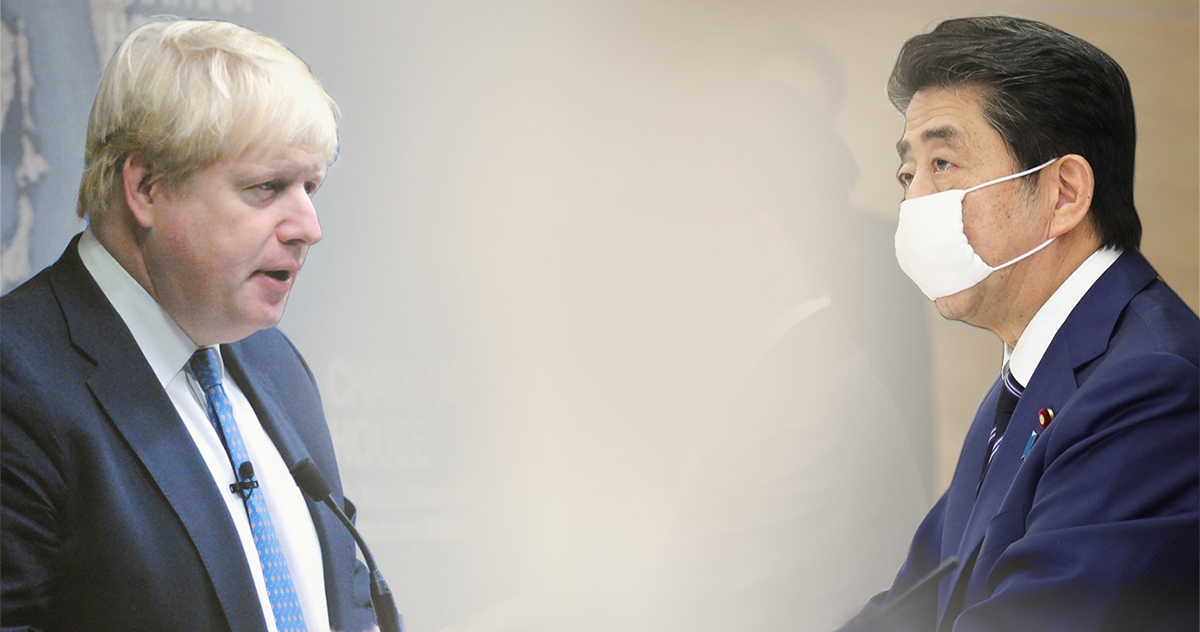 However, in a world transformed in recent years by Brexit, the coming to power of US President Donald Trump and the global Covid-19 pandemic, Tokyo looks set to further diversify its approach to international affairs.
One aspect of this appears to be reinvigorated Anglo–Japanese relations. In light of recent strides towards deeper ties between Tokyo and London, below I consider the three challenges listed above, in turn, as entry points to understanding what grand strategy, if any, Japan will need to pursue to sustain and develop its global role amid rapidly changing international relations.
Boris' Brexit bonus
There is no disguising the fact that Japanese politicians, economists, bankers and foreign policy analysts alike were, for the most part, horrified by the idea of Brexit; and were even more mortified when it actually happened! Nevertheless, Japan now finds itself in a position of foreign policy flux as it deals with multiple challenges.
In the current climate, Tokyo must forge new relationships beyond the United States and East Asia—particularly with the UK, as its historical entry point into European markets and as the fellow island-nation itself now focuses on becoming "Global Britain".
None have championed this slogan more than UK Prime Minister Boris Johnson, who has already set his sights on a new trade deal with Tokyo. Abe has responded in kind, and Japan and the UK will complement the forging of new international business ties with an extended UK–Japan Season of Culture this year, empha­sising the largely complimentary areas of soft power that mark both countries out as global leaders in sport, art, business and culture.
America first, but the UK second?
Despite these positive developments, it is hard to make a creditable case for the formal resurrection of an Anglo–Japanese alliance, particularly given Tokyo's continued commitment to the United States as its only formal security partner.
Having said that, as Trump's administration has put pressure on the government of Japan to do more burden-sharing in the regional security arena, the UK and Japan have already established a de facto strategic alignment—stretching not least across the so-called Indo–Pacific. In this theatre, both countries share military imperatives with the United States and Australia vis-à-vis China.
Concomitantly, Tokyo has done more than pay lip service to closer security ties with London. Since 2017, this sector has witnessed the ramping up of high-level diplomatic and ministerial meetings, and British forces have been warmly welcomed to engage in both joint training opera­­tions and techni­cal military information sharing with the Japan Self-Defense Forces, as well as inter-authority assistance in policing, surveillance and cybersecurity.
Recovering from Covid-19
Further to the above, the unprecedented pandemic has also brought changes to Japan's foreign policy. Whatever your evaluation of Tokyo's efficacy in responding to the deadly disease, one thing is certain: Japan must find an effective economic exit strategy that:
Maximises its technological and institutional advantages in global markets
Reboots its soft-power diplomacy drive
Sustains robust reform in the security sphere
In each of these areas, the UK could prove to play a significant contributing role. Currency and stock markets have been particularly hard-hit by the coronavirus outbreak, none more so than the City of London and pound sterling. That said, a weaker currency and volatile markets also present investment opportunities.
Furthermore, as two of the leading healthcare systems dealing with advanced ageing popula­tions, there is substantial scope for Anglo–Japanese scientific collaboration, particularly in pharma­ceutical and health sciences. Indeed, here, concrete results stemming from Japanese investment have already been realised through the deepening of research-based exchanges between British and Japanese universities.
In essence, then, in a climate of post-crises, Japanese foreign policy is likely to further diversify out of necessity. Amid this, Tokyo looks on course to embrace a more globally focused Britain. The international business environment will probably be grim for all advanced economies in the next few years, but by the time the post-Abe era arrives, we could see the emergence of a long-overdue Global Japan.