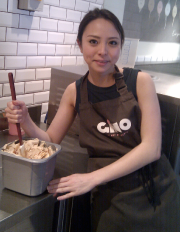 Aki Matsushima caused a stir in MasterChef, the BBC TV competition for amateur cooks, which is watched by millions every week, local media reported in early April.
Matsushima, 25, used skills developed while studying for a doctorate in quantum physics at the University of London to add very cold liquid nitrogen to her miso ice cream to make it smoother. It went down a treat and she has enjoyed subsequent fame.
Inspired by her homeland, she has since designed ice creams in collaboration with Gino Gelato—featuring kinako (soya bean flour) and molasses, wasabi and chocolate, plum wine honey sorbet, red miso and caramel, white miso and walnut, and green tea-flavoured white chocolate stracciatella (the name given the chocolate shavings in an Italian ice cream).
She told reporters that, when you add nitrogen to ice cream, it evaporates and creates a white mist, which quickly cools the mixture and creates smaller ice crystals that make the texture smoother.
Matsushima is now creating ready-to-eat Japanese meals. She lives in London with her parents, who own a Japanese restaurant.