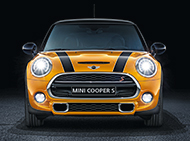 The newest Mini range, launched in Japan on 12 April, has undergone a complete redesign, according to a recent press release.
This is the first revamp of the brand's core product line in seven years. The interior boasts exciting technological advances and safety features, including a warning system to decrease the risk of collision.
The speedometer has been moved to the steering column to improve visibility, and all new models are equipped with a cutting-edge navigation system. In addition, fuel consumption has been reduced by about 15%–30% and torque has been improved by about 40%.
The new line includes four different models priced from ¥2.66mn to ¥3.32mn. Mini is a BMW subsidiary made in Cowley, Oxfordshire.