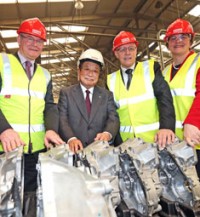 Japanese-owned Ryobi Aluminium Casting (UK) Limited has announced a £32mn investment in its Northern Ireland plant, the News Letter reported on 5 February.
Up to 100 jobs will be created at the firm's Carrickfergus engineering plant, bringing its total number of staff to 386. The expansion will allow the business to broaden its offering of cast components for the European auto industry.
Northern Ireland's first and deputy first ministers visited Japan in December for meetings with the Ryobi management team and Prime Minister Shinzo Abe. The Carrickfergus investment is being supported by Invest Northern Ireland.