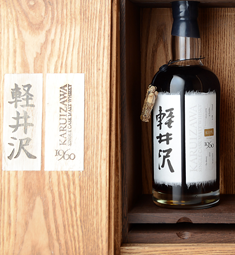 The Number One Drinks Company has launched Karuizawa 1960—Japan's oldest and rarest whisky—at the Tokyo International Bar Show, Harpers Wine & Spirits Trades Review reported on 8 May.
The Nagano Prefecture maker of the mature whisky, Karuizawa Distillery, was set up in 1955 but ceased production in 2000.
However, the UK firm bought the remaining cases of the whisky from the distillery in order to bring alcohol from smaller, independent distillers to a wider international audience.
Modelled on traditional Japanese puzzle boxes and handmade by a British cabinet maker, the Karuizawa 1960 box is adorned with pieces from the original ex-sherry cask head. In addition, the bottle and packaging have been designed by an Edinburgh-based studio.
Only 41 bottles of the 53.2% single malt are available and are priced at £12,500 each.