In the 70th year of the British Chamber of Commerce in Japan (BCCJ), the 2018 British Business Awards broke an 11-year attendance record, debuted a breathtaking digital display and, most importantly, gonged six well-deserving diverse winners. We had opportunistically invited Paul McCartney, but made do instead with a brief but glowing review by Ambassador Paul Madden CMG of McCartney's Tokyo Dome gig the night before and a solid performance by female Beatles tribute band The Clover, who have also starred at the Cavern Club in Liverpool. Please see our five-page report and images of the night beginning on page 16.
Fleeting fame
Another British music icon who recently visited Tokyo was Scottish post-punk one-hit wonders Big Country. In Japan for the first time in 32 years, lead singer Simon Hough reminisced that, at the height of their fame in 1986, they could not leave their Tokyo hotel for fear of being mobbed by fans. "This time, it's a different kind of surreal", he told me after playing at a three-quarters-empty Billboard venue in Roppongi. "We walk down the road and nobody knows or cares who we are. There's loads more foreigners here now and we're not even famous anymore".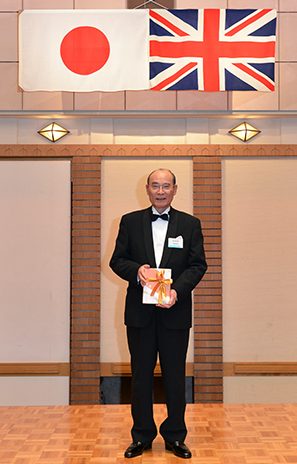 Japan-British Society: Obituary
A sad exit by another tireless supporter of bilateral ties: Katsuaki Wada was executive secretary of the Japan-British Society from 2004 to 2015. He passed away in September, aged 74. I remember being on stage with him when the society gave him a special award for "long, dedicated and outstanding service … especially through his unprecedented, self-sacrificing work to change the body's legal status in 2012 and relocate its office".
History books
I had never met Sir Hugh Cortazzi CMG, but we were in almost weekly email contact through his regular columns to help mark the 70th anniversary of the BCCJ, scheduled for this year's January to December issues of BCCJ ACUMEN. This issue features the penultimate chapter in the series and Hugh's last great favour to me. Sadly, just days before he passed away in August, he granted exclusive permission to reprint a key part of what was to be his final book, British Foreign Secretaries and Japan 1850–1991: Aspects of the Evolution of British Foreign Policy. Starting on page 30, you can read "Chapter 24: Britain and Japan 1950-1990", on the "important roles of former Prime Ministers Sir Edward Heath and Lady Margaret Thatcher in developing British economic policies in relation to Japan". Sir Hugh was said to be the UK Foreign & Commonwealth Office's leading expert on Japan. It will be very difficult to replace him.
Another great book is also featured inside. Did you know about the UK link to the rise and fall of former Japanese Prime Minister Kakuei Tanaka, of 1970s Lockheed Scandal fame? Turn to page 29 for details from declassified documents in London and exclusive interviews with Tanaka's friends, written by Eiichiro Tokumoto, a colleague of mine from the Foreign Correspondents' Club of Japan.
And warm congratulations to former ambassador Sir David Warren KCMG (2008–2012), who was recently honoured by the Japanese government (page 10). Chairman of the Japan Society of the UK, Sir David has always been a great supporter of BCCJ ACUMEN, often championing us, writing for us and, memorably, hosting our launch party at his residence in 2008. David tells me he will collect the award from the Japanese ambassador in London, and we hope to have photos of the event soon.