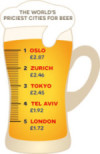 Tokyo and London are among the most expensive cities in the world for buying a small beer, according to a recent survey, The Daily Mail reported on 11 June.
The study, conducted by online travel search engine goeuro.co.uk, assessed the average price of a 33cl bottle of beer in 40 of the world's biggest cities. Tokyo ranked third, at the equivalent of £2.45, followed by London, in fifth place, at £1.72. The cheapest cities surveyed were Warsaw—64 pence and Berlin—66 pence.
Naren Shaam, a spokesperson for GoEuro, said the survey was a great way to get a feel for how expensive, or cheap, a city will be for travellers from around the world.