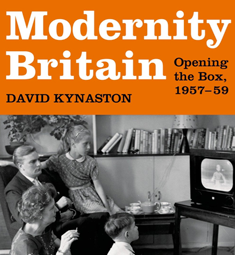 Sometimes a particular book speaks to you in a personal way. So it is for me with this, the third volume of historian David Kynaston's Tales of a New Jerusalem.
Covering the years 1957–59, this book follows on from Austerity Britain 1945–51 and Family Britain 1951–57 and, like its predecessors, it is compelling in its ability to capture the taste and tempo of the times back then.
The trilogy is quite extraordinary in its scope and paints in fine detail the Britain of the era.
The relatively short period covered by this book was actually a time of dynamic change for Britain, and these "never had it so good" years (catchphrase, Conservative Prime Minister Harold MacMillan) saw the start of what today's Britain would look like from its economic standing to its position on immigration and race relations.
As yet, no serious consideration was given to the possibility that the UK might actually, one day, be a part of Europe. The "Fog in the Channel, Europe Cut Off" remained the position of those in government and the media.
Kynaston has a sharp eye for detail and an ear for what the man-in-the-street is saying.
He puts all of this together in a beautifully written and highly entertaining way, not as a dry historian's detachment. It is worth quoting at length one of the several sequences he gives that are truly suggestive of the immediate period.
Kynaston, an honorary professor at Kingston University, London, uses this technique to great effect throughout his book and the result is a sort of literary tableau of the time.
He also uses diary entries and letters of all kinds, from the anonymous to the ordinary through to current (and future) celebrities.
Thus, we learn of the things that entertained the people of the time. In the cinema, the slightly slapstick and music-hall influenced Carry On series with stars such as Kenneth Williams and Hattie Jaques was surprisingly popular.
On TV, Emergency Ward 10 became Britain's first soap opera and was to enjoy a surprisingly long run.
In the theatre, plays such as A Taste of Honey began to present working class issues, as well as those of race relations and homosexuality (the latter at the time a hugely sensitive issue since homosexual behaviour—at least by men—was punishable by fines and even imprisonment).
All of this David Kynaston captures with warmth, sympathy and an analytical eye that helps us grasp a true understanding of what it was like to be there at the time.
For those of us who actually were, his work is wonderfully evocative.
For those who came later it seems to me his is the clearest, least self-opinioned history of the time, and he tells it with admirable clarity, compassion and a necessary sense of humour.
It would not surprise me to discover that many reading Modernity Britain will be tempted to look into the two previous volumes. That is heartily to be recommended. The question, of course, is what will Kynaston do next?
You Might Remember
Readers who—like me—were growing up in the UK at the time will no doubt recall exactly what was going on in their lives when they are reminded of some of the products and slogans used to advertise them back then such as:
Galaxy, Picnic, Caramac ("Smooth as chocolate … tasty as toffee … yet it's new all through")
Knorr instant broth cubes
Bettaloaf
Nimble
New Zealand Cheddar ("Now I'm sure they'll grown up firm and strong")
Jacob's Rose Cream Marshmallow Biscuits
Sifta Table Salts ("Six Gay Colours")
Player's Bachelor Tipped
Rothmans King Size
Wipe-clear surfaces
Sqezy ("In the easy squeezy pack")
Coloured Lux ("four heavenly pastel shades of blue, pink, green and yellow, as well as your favourite white")
Fairy Snow
Tide with double-action Bluinite
Persil ("washes whiter—more safely")
Nylon
Jaeger girls
"U" bra by Silhouette ("Gives You the Look that He Admires")
Body Mist
Mum Rollette
Odo-ro-no
Twink ("The Home Perm that Really Lasts")
Pakamac
Hotpoint Pacemaker
Pye Portable
Philips Philishave ("Get up to Date— Go Electric!")