"A Look Around the World"
Awarded Japan's top gong for foreigners
Decision to stay out of eurozone vindicated
Says austerity may threaten democracy
Congratulates BCCJ for quake relief work
The world is changing more rapidly than ever and new challenges are constantly being thrown up, but Japan will thrive if it is able to regain some of its economic self-confidence of years gone by, Sir John Major KG, CH told a BCCJ luncheon on 8 May.
And, while former Prime Minister Sir John, 69, was broadly upbeat on Japan's prospects, he was far less optimistic about the nations that make up the eurozone. He predicted that fixing the huge problems which bedevil the single currency "will not be easy, will not be quick and, perhaps, may not even be possible".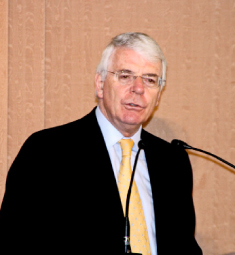 Sir John visited Tokyo twice while he was prime minister, attending the Group of Seven meeting here in 1993 and, later the same year, addressing the Nikkeiren (Japan Federation of Employers' Associations that was amalgamated with the then-Keidanren [Japan Federation of Economic Organizations] in May 2002 to form the present Keidanren, or Japan Business Federation), but was returning on this occasion to receive the Grand Cordon of the Order of the Rising Sun.
The decoration, the highest that can be awarded to a foreign national, was presented by the emperor at the imperial palace earlier that day in recognition of Sir John's "invaluable contribution to Anglo–Japanese relations through his work not only in the political and economic arena, but also in promoting mutual understanding", the government citation states.
Sir John, who also served as chancellor of the exchequer, prefaced his speech by congratulating the BCCJ on all the work it has done to assist in the aftermath of the 11 March, 2011 Great East Japan Earthquake, before comparing the situations in which Japan and the UK—"two of the great trading nations of the world"—find themselves today.
"I think the key message is that no nation is an island and that we are interdependent in ways that we have never been before", he said, adding that, in the area of international trade, the most important question might be not what should be done, but what should not be done.
"There is still a great deal of the Japanese market that would benefit from opening up", he said. "I am strongly against protectionism".
Japan has nothing to fear from an increase in foreign investment at home and can equally take advantage of new external opportunities.
Despite falling behind China in terms of GDP, Sir John pointed out that Japan's per capita GDP is far higher to that of its giant neighbour.
"Because Japan has been stuck in some economic difficulties for some years, people tend to forget the scale and power of Japan", he said, adding that Japan's attitudes towards business "revolutionised" the British economic scene in the 1970s and 1980s, and will have a key part to play in the future recovery of the global economy.
Emphasising that Japan needs to move out of the deflationary spiral that has plagued its economy for a number of years and get back to solid growth, Sir John said: "It is important for the world that Japan recovers and grows. I think that will happen and I doubt that the importance of Japan will be lost on British ministers.
Europe, on the other hand, faces deeper and wider problems, he added.
"The concept of the EU was noble, but the present-day reality is not so", he said. A few years ago, it would have been inconceivable that the eurozone might fail, he pointed out, but the crises that are sweeping through a number of member states mean that assumption is no longer valid.
Moreover, the situation today thoroughly vindicates Sir John's decision to stay out of the single currency.
Emphasising that his decision was not a product of anti-European sentiment, but one made for purely practical reasons, Sir John said he did not believe the economies of the eurozone were converging, a prerequisite for the union.
The launch of the euro went ahead in 1999, despite the failure of convergence, with the promise of responsible economic behaviour by member states, including some that were less economically robust.
Pushing ahead was a political matter, Sir John said, pointing out that France's reasoned rationale for the inclusion of Greece was that the nation which had given us Plato could not possibly be excluded. Today, that thinking could be seen as somewhat flawed.
"Germany and France have begun to patch together a way forward for the eurozone", Sir John said. "It will be a long and perilous road towards fiscal union.
"How can relatively inefficient economies coexist with more efficient economies?" he asked. "The plain truth is that they can't—unless those states become more efficient. To do this will require a huge amount of support over many years".
He also warned that the austerity measures, which will inevitably be required, may mean that some European states' democracies could be under threat.
"If we miscalculate and democracy collapses in a eurozone country, it will be an appalling failure of European policy that will leave a bitter legacy for many years", he said.
While Sir John said he does not believe the euro will collapse—too much has been invested in the system, both financially and politically, for the major states to allow it to fail—he does predict that the eurozone will look very different in the next decade.
One possibility is a "core" eurozone that, comprising countries that retain the euro, eventually evolves into a federal state with more loosely linked nations outside the single currency.
In summary, he said, "Nothing in this world is sacrosanct".