But don't write Ian de Stains' obituary yet
After close to a quarter of a century as executive director of the British Chamber of Commerce in Japan, Ian de Stains OBE believes he has had "a good innings". He is stepping aside to allow some new blood to head the organisation and to pursue a number of new ventures.
De Stains, 62, underwent emergency heart surgery late last year, but is keen to emphasise that his decision to step back from the day-to-day running of the Chamber is not a result of his spell in hospital."The timing of my stepping down may have been brought forward by the operation, but the idea has been on my mind since my 60th birthday and the anniversary of the Chamber in late 2009", he told ACUMEN at his home in leafy Setagaya-ku, which he shares with his partner of 25 years and a slightly overweight but affectionate cat named Yuri.
"Post-surgery, I feel very good and there is no reason for putting off my stepping down any longer, as there are so many things that I still want to do", he said. "Leaving will undoubtedly be a wrench after all these years, as I have really enjoyed my time at the Chamber—and I just hope that my successor will get as much out of it as I have done".
The incoming executive director is Lori Henderson, who was most recently with an educational institution. Henderson will bring with her "a whole new set of skills, which is exactly what the Chamber needs at this juncture", said de Stains, who will step down at the end of March.
The BCCJ is a very different beast to the one he joined as an individual member and, since 1987, served as executive director.
Born in the South Yorkshire village of Wombwell, close to Sheffield, de Stains attended the grammar school at Wath-upon-Dearne. The school was renowned locally for its rugby team—which de Stains regrets he never quite made—as well as its music and drama tutelage. Foreign Secretary William Hague is another of the institution's old boys.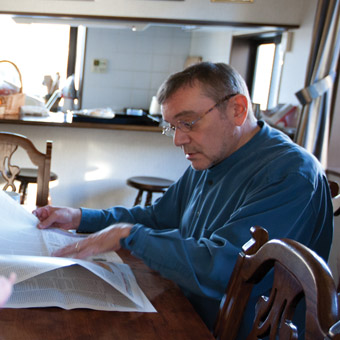 "That school had a tremendous influence on me, particularly certain members of staff, such as the music teacher who thought I had a future as a trombone player, and the head of English who thought drama was for me", he recalled. De Stains applied for a place at Bristol University to read English and drama, as well as at the Royal Academy of Music, but accepted a place at The Royal Academy of Dramatic Art. He says it was very lucky that he won one of just 30 places on offer each year, and that he was especially fortunate to receive a scholarship, since his family was not very well off.
De Stains' father, Arnold, was half-French and half-English and worked at a centre for adults with learning difficulties. His mother, Margaret, was Scottish by birth and de Stains said he and his younger brother Glyn and sister Alison were fortunate to have been brought up in such a loving and supportive family.
Arnold de Stains died when his children were still young.
"I have a profound sense of how much I owe my father", de Stains said. "He had been inordinately proud of me. From him, I got so many of the principles by which I live my life today. It was my father who taught me that it is no good wanting more of something or a better situation, but that we should all try to make a difference in our own community.
"It is a great sadness to me that it was not until he died that I realised all that he was doing. I never truly appreciated him until then".
After graduation, de Stains' first job was as an on-screen announcer with Yorkshire Television. He had the honour of closing down the station on the first day it broadcast, but says he had no idea what he was doing and "made a dreadful mess of it". Still, somebody at the BBC saw potential and spirited him away for training in Auntie's way.
"At that time, there was no question of having a regional accent and I'm sad to hear so often these days that people reading the news have no clue how to stress their words", he said. Nevertheless, listening to the BBC daily remains an important ritual.
"I was working in the TV Centre and the head of my department thought I would benefit from overseas experience", said de Stains. "I thought a job might come up in a Francophone country, as French was my second language, but the position came up in Japan and it was suggested that I apply for it".
He freely admits that, in 1976, he knew next to nothing about Japan—other than a little about kabuki—and that he wasn't quite sure what he was letting himself in for, but reasoned that the secondment to NHK was only for two years, that he could hold out that long and that it would look good on his CV.
"And here I am, 35 years later", he added with a smile and a broad sweep of his arms.
It was not all plain sailing, however, as he discovered immediately after stepping off the London-Copenhagen-Anchorage-Tokyo flight at Haneda Airport.
"I was terribly excited to be in Japan and to be starting a new job", he said. After disembarking, he stood in the slow-moving line for around 50 minutes before showing his passport and visa to the official behind the desk.
"He looked at me with scorn, brushed aside my passport and asked where my pineapple was. I was dumbfounded. I hadn't realised I needed a pineapple to get into the country".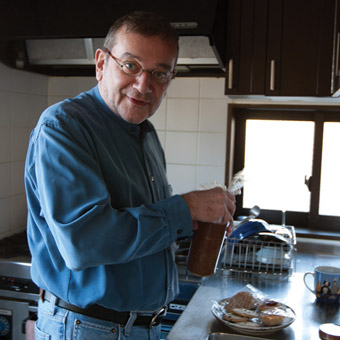 After some confusion, a Japan Airlines official took pity on de Stains and extricated him from the plant quarantine line. After waiting close to another hour to shuffle to the front of that queue, he was met by his new Japanese colleagues who could hardly apologise enough for him having been kept waiting.
Tokyo in the late 1970s was very different from today and de Stains did not benefit from an expat package during his posting, living in a small, tatami-floored apartment in Takadanobaba. He threw himself into his duties, talking his new bosses into letting him take Japanese language classes and then extending his initial posting for a further two years. At the end of that period, however, NHK was not permitted to extend its sponsorship of his visa and the expectation was that he would return to London and the BBC.
"By that time, I had invested so much time in the language, fallen in love with lots of aspects of Japan and was one of the very few professional narrators here", he said. De Stains discussed his future with the BBC, but opted to remain in Japan.
He picked up a range of freelance jobs, including projects for the BBC and NHK, before working as a creative director at a small communications agency set up by some friends.
A member of the Chamber since 1980, de Stains said he had ruffled feathers by complaining about the way in which Individual Members were treated in comparison to Corporate Members, and was offered an opportunity to put his money where his mouth was in 1987.
"The timing was good for me and, although I never expected to be here for the long-term, I was tired of being a freelancer", he said. The project he faced initially was daunting. The Chamber had no logo, mission statement or membership strategy and just a hand-cranked mimeograph machine to turn out the monthly newsletter, even though personal computers were becoming a staple in offices.
"There were times when it was challenging but, by-and-large, the Members are a great bunch of people who are committed to this market and fully understand how important the Anglo-Japanese business relationship is".
In 1987, the Chamber had a membership of about 100; that peaked at 320 and presently stands at slightly less than 300. More than 700 individuals are active in the Chamber.
The biggest challenge the Chamber initially faced was the "tremendous apathy in the UK regarding Japan", de Stains said. Some British businesses were represented here, but there was still a sense in the UK that setting up in Japan was too difficult and that some serious trade issues needed to be overcome—not least the unfair duty on Scotch whisky, which the Chamber, in close cooperation with the British Embassy Tokyo, worked to repeal.
Efforts by the British government in the 1980s and 1990s culminated in the 1997 opening of The British Industry Centre at the Yokohama Business Park, an achievement that de Stains said was unprecedented and gave British firms a foot in the door in this crucial market, along with bilingual support and heavily subsidised rents.
A policy shift in London means there is less focus now on countries than sectors, and the centre no longer is run in the same way, but de Stains remains proud of what it achieved—with no fewer than 26 firms making the most of its facilities to get their start in Japan.
Today, de Stains' wish list for the Chamber would include funding to build a far stronger presence in Japan, and British ministers taking more time to meet the Chamber and visit their Japanese counterparts. Both would go a long way to enhancing trade, he believes.
In 1993, De Stains received an OBE from British Ambassador Sir John Boyd at the embassy after being appointed in the Queen's New Year Honours list. The award was for his services to the commercial relationship between the UK and Japan and, more importantly, his commitment to the community.
He is also keen to play down the suggestion that he was given the award after being "hand-bagged" by Margaret Thatcher a short while earlier.
"She had come to speak at a Chamber breakfast and was in a particularly bad mood. It would be fair to say the event did not go well", he said. "She intimidated the first person in the audience who asked a question and, not surprisingly, no one wanted to be the next person to speak.
"At the end, she wheeled on me and said it had been the worst event she had attended—and I'm afraid that for once I lost my diplomatic cool".
De Stains has a host of anecdotes—about how charming and hard-working Princess Anne is and of sharing a giggling fit with Lady Diana Spencer—and it is clear that he will miss the opportunity to talk with so many different people when he does step down.
"I'm not entirely sure what I will be doing, but I do want to explore a number of new avenues and I hope to be able to continue my writing. After 35 years in Japan and 24 at the Chamber, I hope that experience will be of some use to firms that are coming into Japan or are already here", he said. "I've still got work to do at the Chamber until the end of March and that is my priority, but I'm keeping an open mind and suggestions are very welcome".