It takes a brave—or desperate—maestro such as Robert Rÿker to declare, in a mass email on 18 March: "Coronavirus will not silence us. The orchestra receives no government or foundation support, but relies for operational expenses almost entirely upon income from our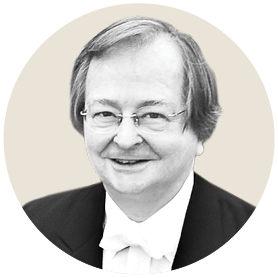 performances. If we cannot perform, we cannot exist. We face a serious threat at this time. The Tokyo Sinfonia will keep playing. We owe it to our players, to our profession and to our precious audience. We do it for you. See you at the Sinfonia".
Those of us who enjoy his sell-out British Serenade "marriage of menu and music" per­formed by the 19-piece string orchestra wish him and ever­yone the best in these difficult times. But I stress that we should all practice government instructions and common sense.
Homes from Home
Talking about the show must go on, of the 15–20 events I had planned to attend since the coronavirus outbreak, only two survived: first was the local premiere of the latest Thomas the Tank Engine movie, Thomas and Friends: Digs and Discoveries, played to dozens of empty seats except where my five-year-old son and I were sat, despite the ruth­less popcorn ban ("It makes a mess").
Although the 2020 Tokyo Olympic and Paralympic Games is now set for 2021, my other surviving event was to show­­case Team GB's official hospitality house for the XXXII Olympiad (above). Considering the eclectic past venues of GB House, carefully chosen by the British Olympic Association, I was intrigued as the first Tokyo-based British journalist to visit 2020's new innovative "mindfitness" and innovation venue in Aoyama.
Previous Games have also hosted our athletes at spectacular spots ranging from Rio 2016's striking mansion built by a colourful industrialist—showcasing culture, music, business (and the Mayor of London)—set in rich botanical gardens under the iconic Christ the Redeemer statue, to London 2012's convenient location with breath­taking views on the ninth floor of a shopping centre—with extensive space for media, VIPs and officials—next to the Olympic Stadium.
The Team GB House has traditionally been restricted to partners, VIPs, officials, athletes and their guests, but for Tokyo 2020 some fans will be allowed access—although details are not confirmed.
If you are lucky, wealthy or well-connected enough to visit GB House in Tokyo, you can expect something different: Made of quality natural materials— ideal for meditation—this quiet and private second- and third-floor members' club, near New National Stadium, will broadcast to guests Team GB at track, field, opening and closing events. Along with VIP receptions, trendy cuisine and a state-of-the-art Aston Martin showroom below, the idea is to make athletes—when they're not training at Yokohama, Kawasaki or Keio University—feel at home with family and friends away from the heat, media, public and pressure. The British Embassy Tokyo is working with the Treehouse (home to GB House) to think British in its food and drink offerings ahead of the Games. The Embassy will also host some events at its UK House venue at the Ambassador's Residence during the Games as part of the UK in JAPAN 2019–20 campaign.
So how about our rivals? Some of the higher profile official houses in Tokyo belong to future Olympic hosts such as France, which aims for maximum exposure by proudly flying its tricolours for Paris 2024 next to Fuji TV. As Los Angeles looks to LA 2028, Tokyo American Club will welcome hot favourites Team USA in a reputed $4–5 million deal. Word is that some lucky members may win a very limited number of tickets to visit GB House, and vice versa.
The Instituto Cervantes—Madrid's answer to the British Council—will become the "House of Spain". The German House, meanwhile, is said to have booked all the sunbeds, towels and prime waterfront spots at the Aqua City Odaiba shopping mall. And Casa Italia—with Milan and Cortina at centre stage as hosts of the 2026 Winter Games—shows its priorities with a venue serving some of the finest Italian cuisine in Japan, the 100-year-old aristocratic Kihinkan-Takanawa Manor House.
---
Dear Reader,
Due to current market conditions, ACUMEN will be published on a bi-monthly basis until further notice. The next issue will be for May/June.