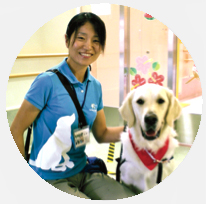 Learning and giving for two of japan's most respected non-profit organisations
This year's Japan Market Expansion Competition (JMEC) business-plan writing challenge took on an unusual client, the Tyler Foundation, which is dedicated to improving life for children with cancer and their families. A non- profit organisation set up in 2006, the foundation is funded by private and corporate donations and employs a minimal number of staff.
So why would it need JMEC's help? The foundation asked JMEC to thoroughly research and develop a business plan for creating a successful membership system to help increase donations, in particular from Japanese corporations and individuals. The JMEC team assigned to it quickly recognised, as the firm's major strengths, its successful programmes—which are unique in Japan.
Shine On! Counselling and Support Programme
Counselling follows and supports patients and parents through diagnosis, discharge and transition back to normal life with a clinical psychologist's daily bedside rounds and group therapy for families with regular educational talks and tea parties.
Support includes regular events which empower patients by improving quality of life and approach to treatment, such as a book club, English club and celebrity visits.
Shine On! House
This facility, in Setagaya near the National Center for Child Health and Development (NCCHD), is a safe, relaxing and fun- filled environment that provides everything from childcare for siblings to emergency accommodation, a business centre, and weekly classes for patients. It is a complete support system that links inpatients, outpatients, recovering patients, their families and the community.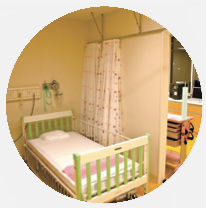 The Shine On! Clinic
A collaboration between the foundation and the NCCHD, it is both a long-term follow up clinic to support childhood cancer survivors, as well as a daily outpatient clinic support centre for pediatric cancer patients at the hospital.
Shine On! Therapy Dog Programme
Japan's first full-time therapy dog programme at a children's hospital was launched in January 2010 at Shizuoka Children's Hospital. Under the supervision of nurse and trained handler, Yuko Morita, Bailey the dog gives patients affection and comfort to help reduce stress and cheer them up.
Shine On! Beads of Courage
Patients receive colourful beads as meaningful symbols of courage to commemorate milestones they have achieved during illness. Each bead tells a story of strength, honour and hope. This decreases illness-related distress, increases positive coping strategies, helps find meaning in illness, restores sense of self, and provides something tangible to tell about a patient's experiences during and after treatment.
JMEC team leader Christian Tsuji said: "We were very impressed with how the Tyler Foundation's programmes help provide social and psychological support in Japan for children with cancer and their families. Right from the beginning, the whole team was motivated to help find the best solutions for [the foundation's] needs".
The JMEC team—consisting of three Japanese, an American, a Canadian and a Slovak—immediately went to work on a detailed donor expansion plan to address marketing opportunities, in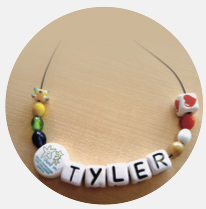 cluding an analysis of the registration, technology and logistics requirements.
The key factors include:
• Fresh ideas for how the Tyler Foundation might increase its revenue from Japanese donors
• Steps required to secure Japanese corporate donations by targeting prospective firms and their corporate social responsibility policies
• Ways to increase exposure to social media, to boost awareness
• Recommendations for a comprehensive online system, enabling the foundation to automate membership-related activities and donations, and requiring minimal personnel and financial outlay
Then came the earthquake and tsunami on 11 March, as the team were half way through the project. "We were concerned how this may affect the foundation, and worked even harder to complete the best plan we could for them".
After more long meetings, countless computer time, litres of coffee and endless emails, the team finally finished. "The business plan contains not only information useful for the foundation, but also our hearts, tears and dedication. We are grateful for the opportunity to contribute, and we hope to continue supporting the foundation".
Mark Ferris, director of the Tyler Foundation, said: "The business plan gave a lot of carefully thought out and well-researched information. We had already been considering many of the ideas, but to have them explained by a neutral third party using statistics and logic was very helpful for us to better understand the actions we need to take and how to prioritise them. They also advised us on several other areas that will help increase operational efficiency. Their presentation was polished and provided specific action items for us to follow".
The Tyler Foundation
Website: www.tylershineon.org
Tel: 03-4580-2770
Email: info@tylershineon.org
——————————————————————————————————————————————————–
JMEC is a business training programme centred on a business plan competition to both strengthen the skills of up-and coming executives and entrepreneurs, and help foreign firms doing business in Japan. Since 1993, JMEC has offered firms considering entering, or expanding in, the Japanese market a professional business plan at a fraction of the market cost, while participants receive classroom training, professional mentoring, and hands-on experience writing a business plan. Applications to join JMEC 18 are open. Participants should apply by 21 October and project clients by 18 November.
JMEC
Website: www.jmec.gr.jp
Tel: (03) 5562-1444
Email: info@jmec.gr.jp