Looking for a New Year cause, challenge and health kick? If you missed the Knights in White Lycra (KIWL) information night at Rapha Clubhouse on 23 January, you still have time before applications close on 7 February to sign up for the eye-watering 500km four-day amateur fundraising cycling tour open to all individuals and firms.
KIWL, which has raised a staggering ¥67mn for various causes so far, has again chosen to support YouMeWe with its dream of installing a computer in all of Japan's 600 or so children's care homes, plus providing user instruction and support for career counselling, financial literacy and adult life.
What surprises me is the large number of fear­less repeat KIWL riders. Founder Rob Williams tells me they are inspired not just by better health—or by the new friends they make on the ride and at the related training and fund­raising events—but also by the significant personal achieve­ment, the deep emotion of meeting the kids for whom they are raising funds and the ride through breath­taking scenery, mostly on quiet country roads and river paths. And did I mention networking? Well, I'm very pleased to report that Custom Media recently introduced one of our clients to Rob, which is now KIWL's biggest-ever sponsor!
The riders' fears and bruised limbs will soon vanish, but they will always be able to remember the ride thanks to Custom Media again providing a pro bono video of the entire odyssey. At least three of us here will join the 40–45-strong group, two as riders (including one from KIWL 2019, pictured below) working as photographer and videographer and, er, I plan to drive a support vehicle thanks again to sponsors Land Rover Japan.

As usual, we'll also feature a full report in ACUMEN and publish the video on KIWL's website, YouTube and In Japan TV, Custom Media's online source for the best and latest of Japanese lifestyle and business, such as culture, food, entertainment, sport and much more.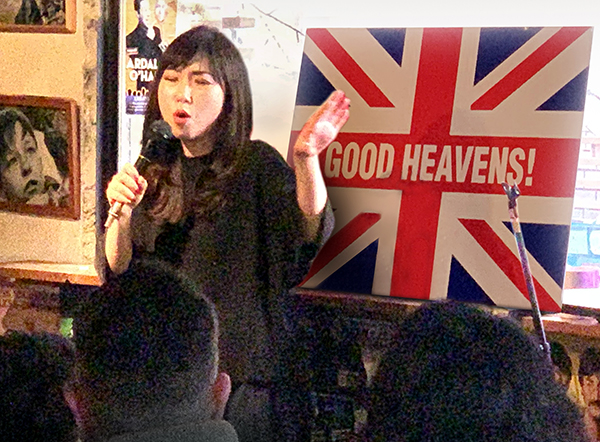 There's plenty of stand-up comedy online, especially featuring four-letter words, stereotypes and stale material. But Yuriko Kotani's raucous live house at Good Heavens on 10 January ensured a hastily arranged sell-out unscheduled encore the next day for the 39-year-old London-based Japanese comedian. The eccentric book-lined British pub in Shimokitazawa may not be as celebrated globally as other venues where she has performed—such as festivals at Glastonbury, Edinburgh and Brighton—but it was packed both times with a largely expat cheering crowd who politely lined up for autographs and hugs after.
Her wry observations on British sarcasm, time­keeping, honesty, grumpiness, sexism, racism and, of course, Brexit drew the biggest laughs. And when she is not winning a BBC New Comedy Award, appearing on Stand Up Central or presenting a video series for the UK Foreign & Commonwealth Office to help rugby fans visiting Japan, she was a judge at the BCCJ British Business Awards in 2019.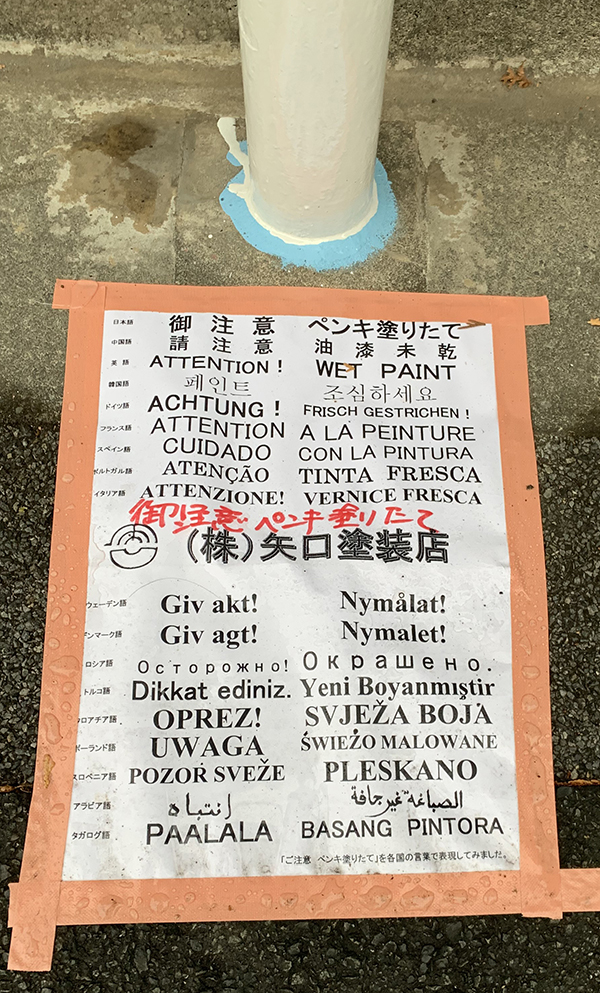 Sign of the times
It's great to see someone taking seriously the poten­tial linguistic challenge caused by the expected influx of global sport fans and tourists for the 2020 Tokyo Olympic and Paralympic Games from 24 July to 6 September. I spotted this simple "wet paint" sign for a solitary lamp post in my very local neighbour­hood written in no less than 18 languages.