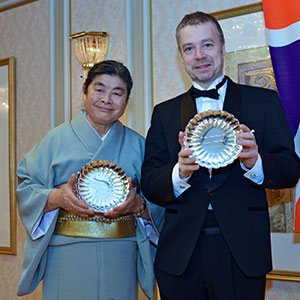 On 21 November, the Japan–British Society (JBS) gathered for its customary annual dinner, which this year took place at the Royal Park Hotel in Tokyo. Among the guests were the UK Ambassador to Japan Tim Hitchens CMG LVO and his wife Sara—attending their final JBS dinner before departing Japan—as well as the event's guest speaker, Dr Naoki Tanaka, president of the Center for International Public Policy Studies.
The dinner celebrated the presentation of the 2016 JBS Awards, which recognise contributions to the furthering of UK–Japan relations. The society's chairman, Takashi Tsukamoto, presented the prizes.
The JBS has been acknowledging the community's work since the scheme was set up 2008 as part of the society's centenary celebrations, with awards going to two recipients—typically one British, and one Japanese—who reside in Japan. They are awarded based on activities that foster and promote UK–Japan relations.
---
For promoting sake and its artisanal craftsmanship
PHILIP CHARLES HARPER
Master Brewer, Kinoshita Shuzo
The only non-Japanese national to have been awarded the rank of toji, or master sake brewer, Philip Harper has played a vital role in promoting around the world the Japanese spirit and the craft that goes into making it, particularly in his home country, the UK.
Harper arrived in Japan in 1988 as part of the Japan Exchange and Teaching Programme, before later beginning an apprenticeship at Ume no Yado, a traditional sake brewery in Nara. In 1998, during his time there, he published The Insider's Guide to Sake, an introductory book aimed at overseas enthusiasts. Then, in 2001, having worked at Ume no Yado for 10 years, he attained the rank of toji after passing the Nanbu Brewers' Guild exam.
In 2006, Harper published a second book, The Book of Sake: A Connoisseurs Guide and, since 2007, he has been the master brewer at Kinoshita Shuzo, the makers of Tamagawa sake.
---
For contributions to UK–Japan relations
THE JAPAN SHERLOCK HOLMES CLUB
Represented by Akane Higashiyama
In addition to the study, appreciation and promotion of the club's titular detective, the Japan Sherlock Holmes Club is involved in an array of activities, encompassing the Baker Street resident, the character's creator, Sir Arthur Conan Doyle, and the Victorian period in which the stories are set. The club's pursuits include twice-yearly seminars on Holmes-related matters, as well as active engagement with fellow fans around the world, particularly those in the UK.
Next year, the club, which has more than 600 members, will celebrate its 40th anniversary. In that time, it has tapped into Sherlock Holmes' rich history in Japan, where the detective was first introduced in 1887. Since then, Holmes has become a fixture of Japanese popular culture, with his iconic cape and deerstalker hat recognised by many.
Today, the Japan Sherlock Holmes Club continues to develop and build on that appreciation of one of Britain's best-loved characters.