On 6 December, the Japan–British Society hosted its annual dinner and awards evening at the Hotel New Otani Tokyo. Attended by special guests, including HIH Princess Akiko of Mikasa, who studied at the University of Oxford, and the British Ambassador to Japan Paul Madden CMG, the event capped off another strong year in UK–Japan relations.
Under the awards scheme, set up in 2008, individuals are nominated based on their specific contributions to the relationship between the UK and Japan. It is customary for there to be one Japanese and one British recipient.
---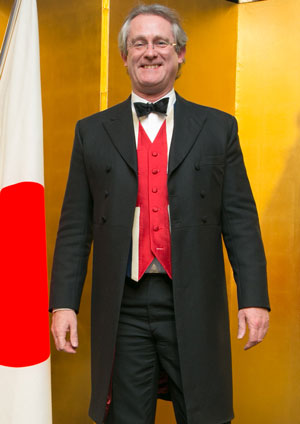 David Atkinson
Chairman and President, Konishi Decorative Arts and Crafts Co., Ltd.
Prior to joining Konishi, Atkinson, who has a master's degree in Japanese studies from the University of Oxford, worked as a financial services consultant in London and New York for Anderson Consulting.
In 1990, he moved to Tokyo, where he enjoyed a successful career in the financial industry as an analyst at Salomon Brothers and Goldman Sachs. At the latter firm he became a managing director in 1998 and partner in 2006.
A prolific writer, he has published several books on Japan, including Japan's Bad Debt Problems (1994), Protecting Japan's National Treasures (2014), New Tourist Strategy (2015)—which won the prestigious Yamamoto Shichihei Prize in 2015—and Strengths and Weaknesses of the Japanese Economy (2015).
Atkinson also has served on a number of government committees and organisations, including Japan Heritage, the Kimono Promotion Council, and the Project to Fully Enjoy National Parks.
He was selected to receive a Japan–British Society Award for his significant contributions to Japan over the past 27 years in both the financial and cultural heritage sectors.
---
Keisaku "Sandy" Sano (left)
Chairman of the Japan Association of the UK
As the former director of the Japan Society in the UK, and current chairman of the Japan Association of the UK, Sano has demonstrated a long-standing contribution to UK–Japan relations through his support of the Japanese community in Britain.
Sano has played an instrumental part in the organisation of the popular annual Japan Matsuri cultural event in London. Over the years, the festival has exposed tens of thousands of Londoners to Japanese art, music and dance.
In 2012, Sano headed the Japanese Community Supporters Group for the Japanese teams competing in the London 2012 Olympic and Paralympic Games.
He was presented with awards by the Japan Society in 2012. Meanwhile, in 2015, the Order of the Rising Sun, Gold and Silver Rays was bestowed on him in recognition of his many years of service to the Japanese community and contributions to UK–Japan relations.
Typically awardees are limited to residents of Japan, but the board saw that Sano deserved to be an exception, due to his considerable contribution to bilateral ties.