Global sporting events continue to encourage thousands of sports fans to travel far and wide, excited to see their home country's team take a stab at winning an international competition. One firm, Sports, Travel and Hospitality (STH) Japan, has become a leading provider of sports hospitality and premium spectator experiences in Japan. The firm provides high-quality packages with, rolled into one, every­thing you might need: top-category tickets, food and drink to be enjoyed before the event, and support from dedicated staff from arrival to departure. 
Established in 2017, STH Japan is a joint venture between the STH Group, head­quartered in London, and Japan's largest travel agency, JTB Corporation. Having enjoyed great success since its inception, the Japanese firm shows no signs of slowing down. BCCJ ACUMEN sat down with David MacCallum, commercial director at STH Japan, to talk about the British Chamber of Commerce member company's road to Japan, the Tokyo 2020 Olympic Games, and what the future may hold.
Back to the beginning
STH Group was initially a joint venture between Sodexo UK and British entertain­ment services provider Mike Burton Group Ltd. MacCallum explained how this took off. "STH Group was the global rights holder for the official hospitality and travel programmes for the 2019 Rugby World Cup", he said. "They created unique corporate entertain­ment packages for rugby fans travelling to the event from around the world. 
"In 2017, STH Group and JTB Corporation had established STH Japan as a joint venture, with the aim to design and build corporate hospitality experiences at each of the 12 2019 Rugby World Cup venues across Japan", he explained. 
"Our mission was not only to plan, sell and operate the official hospitality programmes, but also to introduce sports hospitality and VIP experi­ences as a new form of sports spectating in Japan".
Road to Japan
The 2019 Rugby World Cup (RWC) was hugely successful, with a record 99.3 percent venue capacity and 1.84 million tickets sold. Countries all over the world were celebrating, and it put Japan in the global spotlight. 
MacCallum shared how successful the hospitality packages had been, revealing that the programme had sold more than 130,000 tickets—all bundled into 63,809 hospitality packages. 
"Seventy percent of customers came from Japan, and the remaining 30 percent were from the rest of the world", MacCallum explained. 
However, while the tournament was a success, challenges remained. 
"The sports hospitality concept is still relatively new in Japan and, therefore, stadiums do not have extensive hospitality capabilities. However, our team of experts tackled the challenge face on and created the hospitality facilities by either building them from scratch or sourcing facilities which wouldn't normally hold hospitality events. 
"With 10 types of packages made available for fans, this meant we needed 47 venues across the country to cater for all, totalling 233 hospitality sessions to take place over six weeks". 
Programmes
The 2019 RWC was atmospheric, electric and exciting, and MacCallum related just how STH Japan's luxury hospitality packages had added to that. 
"Our packages ranged from private suites to contemporary lounges. The most popular package was our flagship structure, The Webb Ellis Pavilion and Suites. 
"The package hosted just under 9,000 guests through­out the seven rugby matches played in Yokohama. The pavilion accommodated 1,300 guests and included 18 private suites, and a shared restaurant for International Stadium Yokohama hospitality clients", MacCallum said, adding that the structure was located adjacent to the International Stadium Yokohama. The pavilion had stretched to about 3,850m2, standing 7.4m at its highest point. 
"This was one of the largest temporary structures of its kind to be built in Japan, and it required the combined work of local and interna­tional experts to build. 
"Construction began on 1 June 2019, and it took approximately 120 days to erect the pavilion and finish the interiors".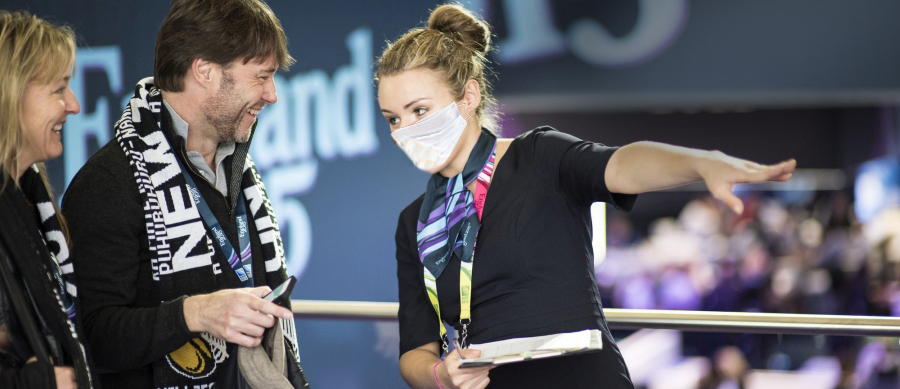 Sun and games
With the success of the 2019 RWC under STH Japan's belt, the firm is now looking to the future, as the Tokyo 2020 Olympic Games rapidly approach. MacCallum spoke about the highly anticipated global event, and what STH is offering spectators. 
"If you want the best seats available, a delicious private meal before the event—the majority at an amazing off-site location—and first-class service throughout, a hospitality package is the way to go". 
MacCallum explained how STH Japan will be offering Official Hospitality packages to those who are looking for more of an overall experience. "Think about how much you would spend on a fine dining meal, drinks before and after the event, and the best available seats in the stadium. For those with a little more to spend on a ticket, Official Hospitality packages will offer a first-class experience. You can watch one of the world's best athletes from the comfort of an incredible seat, all while creating a once in a lifetime experience". 
MacCallum revealed that there are eight unique packages on offer, across 15 different sport sessions, all at different prices. 
"Depending on the package of choice, you can expect to receive a wonderful experience", MacCallum explained. 
"Purchasing an official hospitality package guarantees you and your guests the best available seats, gourmet dining menus—prepared by top chefs—and complementing drinks. You can also purchase packages that include exciting entertain­ment, some of which is provided in the hospitality venue itself, with some selected packages including a dedicated event host and special guest appear­ances to ensure your day is truly unforgettable". 
MacCallum touched on how these packages are designed to cater not only to individuals, but also to corporate guests. "Entertaining key contacts in a relaxed and informal setting, such as a sporting event, is extremely important for business. Dedicated hosts ensure your event runs smoothly so you can concentrate on impressing clients—all against the backdrop of world-class sport". This can also be utilised as a reward for employees. "Relaxing in a more informal setting allows colleagues the opportunity to bond over a unique experience, there­by strengthening the team and boosting morale.
"Those who purchase hospitality packages also receive an elegant, commemorative souvenir VIP access pass and lanyard". 
While the coronavirus and the Tokyo 2020 Olympic Games have been subject to plenty of discourse over the past year, MacCallum emphasised the hygiene and safety measures that are to be taken by STH Japan to ensure those who purchase packages are able to enjoy them­selves safely. 
"Our enhanced hygiene and safety measures at Tokyo 2020 Olympic Official Hospitality spaces are designed to keep guests as safe as possible, whilst still providing a world-class experience. 
"We will conduct meticulous hygiene measures when providing food and drink, and safety measures to avoid overcrowding and control social distancing", MacCallum stressed.
Future plans
STH Japan is looking forward to plenty of thrilling events after the Tokyo 2020 Olympic Games. They recently launched the Rugby World Cup 2023 official travel packages for the event to be held in France. 
"We have various exciting travel options, each offering a unique experience for fans, including guaranteed match tickets, as well as accommo­da­tion and travel services", MacCallum enthused. 
"We have also been appointed the official distri­bu­tor for the Formula One Paddock Club, the exclu­sive VIP hospitality for the Japanese Grand Prix at the Suzuka Circuit, Mie Prefecture, to be held in October". 
There are many more exciting opportunities that STH Japan is working on, across various sports. These will be announced in the coming months. 
"Since it started operations here, STH Japan has grown in ambition to secure a reputation for excellence in Japan", MacCallum said. 
As the world again opens up to travel, and large-scale events are hosted once more, the business opportunities for STH Japan can only continue to expand. 
---
If you are interested in buying a package for the Tokyo 2020 Olympic Games,
please visit: https://officialhospitality.tokyo2020.org
Or contact: info@officialhospitality.tokyo2020.org 
To find out when other packages go on sale, and to hear about the latest news and offers,
sign up to the mailing list: www.sthjapan.com/en/early-access-sign-up