Red or Dead paints picture of Bill Shankly
• Author's staccato writing style riled critics
• Spent nine years teaching before first book
• Praises Liverpool manager's persistence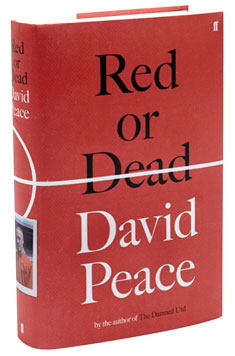 David Peace's latest book, Red or Dead, may have "divided the critics", he said, but the support of the family of Bill Shankly, the famous former manager of Liverpool Football Club (FC), and the club itself mean more to him than a provocative review.
"That's the nature of the book", the Tokyo-based author said with a shrug. "It is in that style and is written about a man who was out of step with his time. Socialism was a part of the way Shankly was brought up and the way he lived his life, going against the grain".
Raised in Ossett, West Yorkshire, 46-year-old Peace returned to live in Tokyo in 2011 with his wife and two children after living in the UK for two years.
Named by Granta in 2003 on the "Best of Young British Novelists" list, Peace shot to prominence with Red Riding Quartet.
His reputation only grew with his subsequent novels: The Damned Utd, based on Brian Clough's short spell as manager of Leeds United Football Club in 1974, and the three thrillers set in post-war Japan that began with Tokyo Year Zero, published in 2007.
Inspired by his father's efforts to write a novel, Peace said he knew he wanted to be an author at the age of eight.
"Even after I started writing, there were plenty of moments of self-doubt", Peace said.
After obtaining a degree from Manchester Polytechnic, Peace spent two years writing a book while on the dole and, in 1992, sent the product of those two years to every publisher in the UK. It was rejected by each of them.
"That was the lowest I've ever felt in terms of my writing", he said. "I wanted a complete break and went to Istanbul in 1992 for two years, and that was the only time that I never wrote anything. I came to Japan in 1994 and started teaching in Shin-Koiwa in Tokyo.
"I didn't know the language and didn't know anyone, so I regularly went to used bookshops—this was all before the internet—and I read, read, read. In the end, I ran out of books to read so I decided to write the book that I wanted to read".
Peace's first book was heavily influenced by American-style crime novels. Habitually an early riser, he used to put in five hours before going off to teach and then come back in the evenings to revise the manuscript.
It was not until nine years later, however, that he could finally give up teaching. Today he still rises at 5am before putting in a full day at the office researching or writing.
Not all the reviews of his latest book have been completely positive, with some critics finding his trademark use of repetition and short staccato sentences uncomfortable.
"I always insist that the style comes first", he said. "With Red or Dead, it was a novel, not a biography of Bill Shankly".
The book follows Liverpool FC's rise from 1959 to 1974. Peace says he did not write it for supporters of Liverpool—"because they all know it by heart anyway"—but more for people outside Liverpool and football, and to show what Shankly did for the city and the club.
"I also wrote it for my son and my daughter because the man and those times are such an antithesis to modern life, the quick fix, the sense of entitlement that people have now", he said. "There's no sacrifice or struggle today.
"The repetition is in there to underline the struggle he had to go through. There were seven years when Liverpool didn't win anything, although they came really close, and Shankly just went back and started again.
"I thought about that as I was trying to record it", he said. "You can't take a shortcut; you have to write about it. It uses simple language; football is relentless like a river and I wanted to try to capture that river of repetition with short sentences, incremental change".
The reception from Merseyside has been "great", Peace said, with Shankly's family supportive and generous. That's a testament to the man and the family, he added.
"It's a trait of the Shanklys to bring out the best in other people. The fact that ex-players like Willie Stevenson have come out and said I got it 85% right and hearing that these people liked the book has been like a magic shield to me".