With one finger almost poised over the print button for the first issue of ACUMEN in 2019, we learnt that Japanese Prime Minister Shinzo Abe was going to London—the next day. News soon leaked that he would announce the end of Japan's 23-year ban on selling British beef and lamb. Then, just when we thought Brexit couldn't get more confusing, divisive and uncertain …
So here is your January 2019 issue, a bit late but more up to date.
On 10 January, Abe and Prime Minister Theresa May appeared at Downing Street to announce UK beef and lamb sales in Japan will be worth about £127mn over the next five years, "supporting farmers from the valleys of South Wales to the Highlands of Scotland". International Trade Secretary Liam Fox, a regular visitor to Tokyo, said, "This deal brings significant benefits to producers across the UK at a time when British food and drink exports are at a record high". Read more on page 18.
On cue came enthusiastic tweets and press releases about other new bilateral deals, plans and record numbers from sectors as diverse as defence, tourism, arts, culture, charity, sports, autos, toys, science and horticulture.
With Japanese firms employing 150,000 people in Britain, and combined trade of £28bn over the past 12 months, here are some of the other recent bilateral gigs:
Classic niche marque Norton Motorcycles, established in 1908, seals five-year exclu­sive deal that will support 200 jobs in the East Midlands

Hamleys, the world's oldest and largest toy retailer, recently entered Japan, opening in Yokohama and Fukuoka to add to its Regent Street flagship store

Downing Street gonged London-based Aid For Japan founder Akemi Solloway Tanaka

for helping orphans of the 2011 Great East Japan Earthquake

Edinburgh scientists are to collaborate with

Japanese AI and robotics researchers
Thanks to easier entry requirements and British Airways' new non-stop Osaka to London route starting in April (page 38), Japanese tourists could number 270,000

(the most since 2007) this year, with 9% more

visitors spending £35mn more than in 2017

The National Gallery, London to send major

exhibition to Tokyo
More combined military exercises at sea and on land and air, including a visit to Japan by HMS Montrose to help enforce North Korea sanctions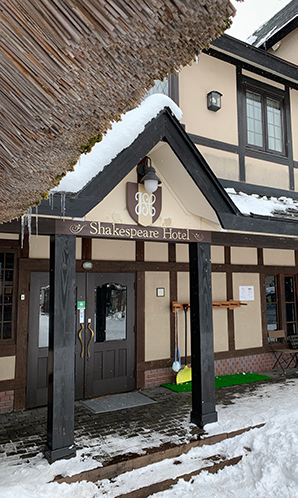 With Brexit looming, some cynics are again quoting William Shakespeare's ubiquitous line from Richard III: "Now is the winter of discontent". So, if you are heading to Hakuba, Nagano Prefecture, for the 4th annual Inter-Chamber Ski Race on 26 January—supported by the British Chamber of Commerce in Japan—and are seeking light relief you might want to stay at the delightfully eccentric, but warm and friendly, Shakespeare Hotel.
I don't know who is behind the hotel, but, after spending the recent New Year's holiday there, I can confirm it has engaging quirkiness and character, as well as icicles thicker and longer than my arms cascading from the gutters.
This landmark also features The Globe Bar—favoured by skiers for its classic ambience, bar games, Hemlock and Capsulet cocktails as well as bangers and mash—and a totally over-the-top Othello restaurant, named after the Bard's circa-1600 tragedy and recently founded by a Japanese Michelin-starred chef. The hotel, bar and restaurant boast inviting log fires, Gothic arches, high and low timber beams, dark corners and church-like leaded windows.