Home to some of the world's best airlines, Japan is giving business travellers plenty of reasons to fly further. With extra routes, improved services and the enhanced global offerings of the various airline alliances, going abroad for the sake of the company has rarely seemed less of a chore.
Since their inception in the 1990s, airline alliances have grown into three competing groups, comprising the 13-member oneworld (including British Airways Plc [BA] and Japan Airlines Co., Ltd. [JAL]); the 20-strong SkyTeam (including Air France and Delta Air Lines Inc.); and the 28-airline Star Alliance (including All Nippon Airways Co., Ltd. [ANA] and United Airlines Inc.). As of May 2017, such alliances accounted for about 58% of global capacity.
While initially focused on "putting more dots on the map", the role of such alliances has broadened to include the quality of passenger services, from ensuring alliance customers are treated similarly across international airports to including priority check-in and boarding for "elite" status passengers.
For business travellers, more efficient bookings and connections, together with corporate travel packages, can save time and money, along with the benefit of accumulating frequent flyer mileage across a range of airlines. However, critics argue that alliances inhibit competition, with inconsistencies across airlines and airports that can cause problems for travellers, even for those within the same alliance.
Smoother journey
Nevertheless, Moran Birger, BA's regional commercial manager for Japan, points to the benefits of the oneworld alliance, which covers some 160 countries worldwide.
"We were the first alliance to introduce inter-airline ticketing, which allows our customers for example to book a BA flight and then connect onto another oneworld carrier", he said.
"In addition, our frequent flyer program—the Executive Club—not only enables our members to collect tier points on BA flights, but also collect and redeem various benefits with other carriers in the alliance, including more baggage, lounge access, priority check-in and boarding. There are also other products such as round-the-world fares, which you can use in the 13 oneworld carriers to keep going around the globe".
BA currently offers customers four daily flights from Japan to London, with its own daily flights from Tokyo International Airport (called Haneda) and Narita International Airport in Chiba Prefecture, along with two additional flights under a codeshare agreement with JAL.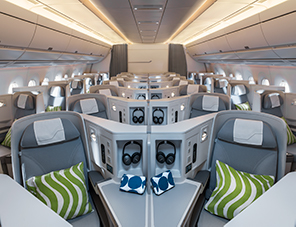 In addition to JAL, BA's joint businesses with oneworld partners Finnair plc and Iberia LAE SA have given its Japanese customers connections to Central, Northern and Southern Europe. Other benefits include an extended choice of premium cabin options, reciprocal lounge access and guaranteed flat beds in business class on all flights between Japan and Europe.
Even after 70 years of flying between the UK and Japan, the British flag carrier is showing no signs of complacency. In November 2017, BA announced a £4.5bn investment plan aimed at improving customer service in all cabins. The five-year plan includes the acquisition of 72 new aircraft and the installation of wifi that is available in every seat.
BA is also investing £600mn in its Club World business class offering, including new bedding and amenity kits, alongside improved "restaurant-style" catering.
Birger said Japanese travellers had already been introduced to the new bedding, with the improved catering service expected later this year.
In 2019, BA customers can look forward to new business class seats offering "direct aisle access", meaning no more tripping over your neighbour, along with "gate-to-gate" in-flight entertainment that works "from the second you step on board until you leave."
However, BA is not the only airline to have ramped up its service offerings.
Capacity hike
Air France has announced an 18% increase in capacity this year for Japan, on the back of improved demand following the so-called "2016 crisis" that saw Japanese travellers avoid Europe following a string of terrorist attacks.
A founding member of SkyTeam, the French flag carrier, together with its Dutch brand KLM, currently offer 40 flights per week between Japan and Europe via Amsterdam and Paris, flying out of Haneda, Narita and Osaka's Kansai International Airport.
Asked how SkyTeam differs from its alliance rivals, Stefan Vanovermeir, Air France–KLM's general manager for Japan, Korea and New Caledonia, highlighted the alliance's global dimensions, as well as the priority given to its customers at more than 1,000 airports worldwide.
"From the moment you arrive at the airport to getting on board, there's a clear SkyTeam priority segmentation. Wherever you go in the world, when you're boarding or checking in, going through security, going through the gate, there's exactly the same concept", he said.
Vanovermeir also pointed to the airline's specialist corporate business team in Japan.
"As well as cost savings for the client, we want to assure them their team member will arrive in good shape when they fly with us", he said, noting the airline's "full flat" beds in business class and investment in new aircraft.
Not to be outdone, Star Alliance has also expanded its international connections, including a new codesharing arrangement between ANA, Japan's largest airline, and Shanghai-based Juneyao Airlines.
An ANA spokesperson said Star Alliance offered Gold Status members benefits including access to member carriers' lounges around the world, in addition to extra baggage, priority check-in and luggage handling, along with fast-track service at airports including Haneda, Narita and London's Heathrow Airport.
The spokesperson said the alliance had also launched a "Digital Services Platform" as part of a new digital strategy aimed at enhancing digital and mobile services for customers.
Meanwhile, ANA and JAL have expanded tie-ups with other overseas airlines outside their respective alliances. ANA has codesharing agreements with Alitalia, Garuda Indonesia and Vietnam Airlines, none of which are members of the Star Alliance. JAL has also formed tie-ups with 15 airlines from other alliance groups, including Air France.
The shift has been attributed to the rise of budget carriers, mergers and acquisitions among major airlines, and the push to seek profitable partners regardless of their alliance allegiance.
Right partner
For Japan's business travellers, choosing the best alliance ultimately depends on travel patterns, an alliance's coverage and the quality of its members.
British consultancy Skytrax's 2017 awards rated ANA third among the world's top airlines, behind Singapore Airlines Limited and top-rated Qatar Airways Q.C.S.C. For business travel, ANA was second behind Qatar Airways, while JAL ranked 11th.
Among the global airline alliances, Skytrax rated Star Alliance top, followed by oneworld and SkyTeam.
Tokyo-based business travellers can also look forward to better services from 2020, with both Haneda and Narita increasing slot capacity for international services to support Japan's tourism boom. The Japan National Tourism Organization says 5mn foreign visitors came to Japan in January and February, an increase of 15.7% on the same period the year before.
Asked about the future of airline alliances, BA's Birger suggested they were far from finished.
"We'll definitely be looking to work with more carriers, either through an alliance, codeshare or joint venture", he said. "I think the alliances will continue to grow and, most importantly, customer choice and the destinations will grow, as we continue to make it as simple and as smooth as possible for our customers to get from point A to point B".