In the September issue of BCCJ ACUMEN, Rob Russell gave a brief history of British motorcycle manufacturer Triumph and the competition it faced from Japan. In a follow-on to the article, Russell sets off with a friend on two Triumph motorcycles for an epic trip around Western Japan. This is his story.
This trip was only possible because of the generosity and far-sighted thinking of Chie Okamoto of Paddock Motorcycles in Tsuyama, Okayama Prefecture.
Paddock was started by Okamoto's parents in 1976, and is now a thriving Triumph dealer­ship that also runs guided motorcycle tours around Japan.
Fellow Brit Bill and I were to be the first to use Paddock-supplied Triumph Tiger 1050cc bikes for a self-guided tour of eight prefectures in Western Japan. To add to the fun and give a theme to the trip we planned to play golf at a different club every second day, sending the clubs ahead by door-to-door parcel delivery.
Shimane
We spent the first (and last) night at Nishilma 25, a wonderfully traditional Japanese house now run as Tsuyama's first licensed Airbnb by local artist Yuko Sakurai, whose pieces adorn the walls and whose breakfast of seasonal peaches, ginger yoghurt and homemade bread with yuzu jam set us up perfectly for the first day's golf.
This we played at nearby Kume Country Club, where I took an early 5-3 lead, using our unique Brits on Bikes handicap/points system, and some friendly retired locals admired the bikes and invited us to have coffee in the clubhouse.
Afterwards we rode 120km into the setting sun to the beautiful Tama-tsukuri Onsen and checked into the excellent guest house Aobato no Su, where we enjoyed the natural hot spring baths and were treated to an impromptu shamisen performance by the manager.
The next day we visited Shimane Winery (no swallowing during the tasting, sadly) and rode to the Lighthouse at Cape Hino, Izumo, which, at 68m above sea level, is the highest in Japan. Charmingly, we were asked to take our shoes off before climbing the 150-plus spiral steps that lead to the heady view from the top.
We then headed west along the San'in Expressway and quickly covered the 150km to the Yamaguchi border.
Yamaguchi
The ride along the Japan Sea coast road through Yamaguchi Prefecture to Hagi, again into the setting sun, is one of the most sublime motor­cycling experiences I have ever had.
Sooner or later, every biker who has both a soul and a love of speed will face a dilemma: do I go fast and enjoy the winding road and the absence of other traffic, or do I slow right down and soak in the breathtaking views? I have to confess that the speed demon got the upper hand at one point, but we also slowed and stopped to take pictures of the quirky coastal islands, crystal clear water and grey herons and to enjoy the beauty and serenity.
Then we slept carefree in the clean and accom­mo­dating, but oddly named Royal Intelligent Business Hotel in Hagi after two ¥798 pitchers of irresistibly refreshing lemon sours.
Thus rejuvenated, we got up early and headed to the scruffy, but very likeable, Yuda Country Club in Yamaguchi for the next round of golf.
They say mad dogs and Englishmen go out in the midday sun, but it takes two exceptionally daft Brits to play golf on the side of a mountain in 37 humid degrees of August heat. The result was another win for me: now 11-6 ahead and Bill's starting to feel it's time to raise his game.
After golf we rode a short distance to the Green Rich Hotel at Yuda Onsen and, acting on a recommendation, walked to what turned out to be the trip's best restaurant—Isokura Izakaya—where we had local seafood, fresh baby corn, mouth-watering spare ribs and saikyo yaki salmon washed down with cold beer and Yamaguchi sake.
Hiroshima
During the planning of the trip, we decided to skip the city of Hiroshima, which we had both visited, and instead explore some less well known parts of this vast and mostly rural prefecture.
Getting clear of the urban sprawl and off the highway, we trundled along the pretty, but traffic light-dense coast road.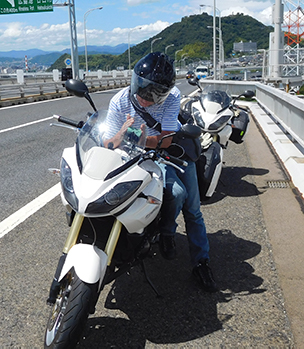 We then paid ¥560 to cross two glorious bridges onto the remote Kami-kamagari Island where we checked into a quaint waterfront guesthouse. The owner not only gave us the run of the place, but acted as taxi to the most amazing local fish restaurant where we dined on the local specialities: tai (sea bream) sashimi, iwashi (sardines), tempura, rice, miso and tebasaki (chicken wings).
After a dusty day's riding, a before-dinner swim was irresistible. We found a remote and unattended beach along the coast where we could float in the warm water, reflect on this magic part of the world and watch the jumping fish pop up in unexpected places.
The next morning we rode an hour to the Setouchi Golf Resort, where the course is designed around the views and we voted the scene from the bath the best we've experienced in Japan.
Just before lunch, the course attendant came and rather clumsily told us to speed up our play: "go, go". Bill responded by writing down the phrase, "would you mind speeding up a little", and handing it to the desk clerk. This evidently caused excitement because, after the round, the manager, Morimoto-san, came up and thanked us for educating her staff. It turned out she had lived in England for 16 years and used to manage Essendon Country Club near Hatfield, north of London.
And in case you were wondering about the golf, after a personal best 78-foot putt for me and a 220-yard 3 wood onto the green for Bill, it was 7-1 to Bill who took a 13-12 lead—almost neck and neck!
Hyogo
After golf at Setouchi, the TV in the lounge showed images of Typhoon 20 (Cimaron) lashing the south coast of Shikoku. It looked to be heading right over us and for the whole of the 140km ride to Okayama City we were expecting to be drenched and windblown with the added threat that the highway would be closed to motorcycles.
With luck and the help of the rock steady Triumphs, we outran the typhoon and were safely in the hotel when it hit.
After an easy 150km ride to Kobe the next day we checked into the friendly T & K Hostel where we cooked a meal of Kobe beef with mashed potatoes and drank Okayama red wine and chatted with a Japanese biker, an Italian pasta chef and an ex-US military marshal arts enthusiast.
In the morning I woke to find a huge nail had impaled my now very flat back tyre. We rode to the attractive Nishi Kobe Golf Ground two up on Bill's bike (6-2 to Bill who takes a 19-14 lead), then tackled the puncture problem. This turned out to be no problem at all, as Paddock has the most amazing rescue service. The tyre being unfixable, they sent out the truly wonderful Kuma-san, who arrived at our hostel at 10:30pm with a new bike, cheerfully taught me how to work the panniers before introducing himself, then loaded the broken bike onto his truck and headed back into the night with a wave.
I liked the first bike, but its descendent, the 1200cc Triumph Tiger Explorer which I now held in trust—this I loved. It was muscular and effortlessly fast with a smoother gear change.
Thus equipped we crossed to Awaji Island over the world's longest suspension bridge (Akashi Kaikyo, 3,911m), sped along it and then traversed the 1,629m Naruto suspension bridge, from which we got our first sight of the famous Naruto whirlpools. This took us out of Hyogo and into Tokushima Prefecture on Shikoku Island.
Shikoku (Tokushima, Kagawa, Ehime)
From Naruto we rode along the Seto Inland Sea coast of Shikoku into Kagawa Prefecture and arrived at the attractive port city of Takamatsu.
After checking into the artfully decorated boutique Ten to Sen guesthouse we headed out in search of supplies and had a makeshift Mexican meal on the balmy starlit rooftop.
The following morning we rode south for an hour through the mountains and back into Tokushima Prefecture to Shikoku Country Club. I've become used to the 5-star hotel service at Japanese golf courses, but this was the first time I've had my golf shoes taken from the golf bag and handed to me at the check-in counter! I don't think they'd polished them, but I can't be sure.
They did have a little trouble locating our booking and seemed to hurriedly conjure up a tee time for us. This anomaly was cleared up an hour later when a different Shikoku club phoned to ask where we were. We had turned up at the wrong course! I almost regretted their flexibility five hours later as it was a clean sweep for Bill who now took an unassailable 27-14 lead, winning him what is now known as the Lionel Stanley Trophy in honour of his late grandfather and will go annually to the top Brit golfer-biker.
After a bath we headed into the setting sun for the last time and I fell even more heavily for the Tiger as we galloped for 140km along the highway through the mountains into Ehime Prefecture and that night's destination, another castle port city, Imabari, where we checked into a traditional ryokan.
Okayama
The road back to Honshu from Imabari is known as the Shimanami Kaido (Shimanami sea road). It was another beautiful ride and a gorgeous, clear day and we stopped to take pictures and chat with the hordes of excited school children who were walking or cycling across the first and longest of the awe-inspiring bridges.
Turning east and following the Sanyo Shinkan­sen line for a while, we crossed back into Okayama and headed for Yakage Village. There we had an appointment with the local cable TV station outside the Pont Mouvant motorcycle cafe.
After an udon lunch, we rode to Aba Village and got an early night. This was just as well, since the whole village is woken daily at 6am over the loudspeaker system!
The final day's golf at the very fine, but extremely hard to get to, Nihonbara Country Club was a good one for me with a 5-3 victory, making the final score a more respectable 19-30.
After golf there was the opportunity for one more blast on the bikes before heading back to Paddock Motorcycles. There we received, if not a returning conqueror's welcome, certainly a warm one with a barbeque on their lovely property. We were surrounded by Triumphs, hard-working and open-minded people, and enjoyed the warm glow of an ambition fulfilled.