It's not what you give, but to whom you give
"What can I do to help? What do you need?" are the two most frequent questions I hear, several times a day. And not just from people in Japan.
We have been inundated with offers of help from as far away as Germany and Africa. We fully appreciate this desire to help, especially in a crisis of this magnitude. It represents one of the best aspects of humanity—that we are willing to make sacrifices for people we probably will never meet. It does give us hope.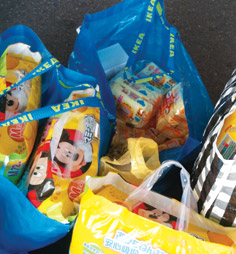 However, without the right know-how, such well-intentioned acts usually miss the mark. In the last two weeks I have seen good intentions go wrong.
We have all seen the photos and footage of the terrible destruction. And, having made multiple trips to the damaged area, I can attest it is very bad where the tsunami hit.
The huge number of people affected by the Great Tohoku-Kanto Earthquake and tsunami is staggering compared to other recent natural disasters in Japan.
The outpouring of donations from around the world has been incredible, but what I am telling foundations and organisations that want to make large contributions is: wait and see. Needs and the ability of organizations to respond are going to change over the next several weeks. The first step is to get a clearer picture of the recovery process.
Anyone who has seen a vehicle accident knows the first response is to stop any victims' bleeding and stabilize them. For natural disasters, that often also means rescuing survivors and recovering bodies. Once that is done, the long process of recovery begins.
There are many bottlenecks in getting aid to those in need.
• The first is the result of evacuation centres asking that donations be funnelled through distribution centres, which then wait until they have enough to give equally to all of them.
• Another bottleneck is caused by the lack of fuel for transport to distribute goods.
• Further, some distribution centres are stockpiling food until they reach 2-3 months' reserve before they distribute.
• Finally, there is no systematic way to reach those not in evacuation centres, which was also true before the disaster struck.
Merely pushing more aid up to Tohoku may not yield the results one expects. It's not the scale of the damage, but the ability of the non-profit sector to absorb financial donations that should drive funding.
The destruction is real and vast. The financial resources needed to repair and restore the region are equal in magnitude. But I am concerned about so much money being thrown at the problem with the hope of something good happening. Funds sent by the many overseas groups to the Japanese Red Cross Society may never make it to the country.
According to GiveWell, which evaluates charities: "The Japanese Red Cross Society, with the support of the International Federation of Red Cross and Red Crescent Movement has determined that external assistance is not required, and is therefore not seeking funding or other assistance from donors at this time".
GiveWell recommends donating instead to Médecins Sans Frontières (Doctors Without Borders) because of its track record for transparency and ethical fundraising practices. But even that organisation has said it has enough funds for Japan, and future donations may be used for other purposes.
You should look into where your funds would go before donating.