Japanese Street Style
By Pat Lyttle
£19.95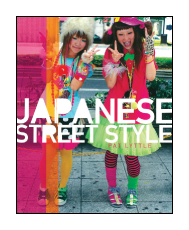 Nothing makes me feel my age more than a weekend wander around Harajuku or Akihabara. Every street looks like a fancy dress parade and, until recently, I thought most of the young people taking part simply grabbed most of what they were wearing from recycle shops or the Salvation Army.
Then I discovered an extraordinary book called Japanese Street Style, by the British photographer and specialist in fashion shoots Pat Lyttle. Reading it has proved to be quite an education and I can now tell my Lolitas (there are eight varieties, from classical through gothic to punk and male) from my furry tails and kigurumi (costumed performers representing cartoon characters and, often, animals).
These are among the many fashion tribes that drive the trends so ardently pursued by today's young people—at least those with deep pockets or generous parents.
The book is a photographic exploration of the various looks with which those tribes identify. The images are striking: something to be expected from a photographer who has worked with celebrities including Betty Davis and Diana, Princess of Wales.
But Lyttle is also passionate about fashion—and Japanese fashion in particular—so he also writes about it with a directness and simplicity that is born of his understanding of what it means to the young people of Japan today. Unstated, and possibly even unconscious, it is a subtext about Japanese society at large.
Marketed as "the first book of its kind to showcase the most innovative and cutting-edge looks in Japan today", this is a surprising and very welcome addition to my shelves. It will also give my weekend wanderings an altogether different focus.
The Historical Consumer
Consumption and Everyday Life in Japan, 1850–2000
Edited by Penelope Francks and Janet Hunter
£67.50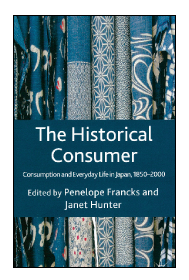 Consumers are also at the heart of this somewhat formidable (and formidably priced) book which has the helpful subtitle "Consumption and Everyday Life in Japan, 1850–2000". The editors—both academics at top UK universities—take as their starting point the fact that most of the existing writing on the Japanese "economic miracle" has focused on the production of goods and the industrial developments that have driven the economy. The role of the consumer, they argue, has been largely neglected.
The book is their response. It is the result of a project funded by the British Association for Japanese Studies and the Daiwa Anglo-Japanese Foundation. Various contributors took part in a 2010 workshop that explored the interactions among individuals, institutions and social structures that have determined the changing pattern of everyday life in Japan since the 19th century.
Thirteen of those participants subsequently contributed chapters to the book, which Penelope Franks (honorary lecturer in Japanese Studies at the University of Leeds) and Janet Hunter (Saji Professor of Economic History at the London School of Economics and Political Science) have brought together in a style that is consistent and eminently readable.
Given the fact that the contributors are from different academic disciplines and of different nationalities—some Japanese and some not—that could not have been an easy task, but it is one they have managed most successfully.
That is not to say the book is not hard work. This is nothing if not a serious academic undertaking and it is highly unlikely that anyone would be tempted to pop it into the carry-on bag to while away the time on the next flight to London.
But for those with a serious interest in consumer trends and marketing, it offers fascinating insights into how Japanese consumerism has changed over the years and begs the question: are there lessons to be learned for those wanting to appeal to the Japanese market today?