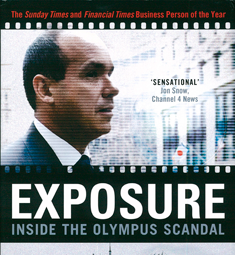 Betrayal in the Boardroom
"The world is a dangerous place. Not because of the people who are evil; but because of the people who don't do anything about it"—Albert Einstein.
Jake Adelstein quotes Einstein in his afterword of the deeply personal memoir by Michael Woodford, the former British president and chief executive officer of the disgraced Olympus Corporation.
Woodford may not have exactly seen evil in his employer's actions, but he did see something terribly amiss and set out to try do something about it.
The irony is that his actions—intended to do good—put himself and his family at risk. Indeed, by the end he was literally in fear for his life.
Woodford was the first Westerner to have risen through the ranks to the head of the boardroom of a Japanese firm for which he had worked for 30 years. He was a man who appeared to have everything; a multi-million pound salary, impressive home, chauffeur-driven cars, and was accustomed to only turning left when boarding an aircraft. So what drove him to risk it all?
Exposure sets out his reasons for exposing a series of bizarre merger and acquisition deals worth £1.12bn that, it turns out, were intended to write off losses from the firm's books.
In doing so, he found himself caught up in a web of intrigue and deceit worthy of the most complex work of thriller fiction.
In addition, he was being betrayed at virtually every turn by the people he had worked alongside, including some he had seen as his champions and mentors in the firm.
Those who know corporate Japan well may not be surprised by the tendency to stick together, especially when faced with any perceived threat from "the outside".
Thus it is perhaps a little surprising that Woodford appears not to have expected anything of the kind. Or maybe he thought that, having worked for the firm for three decades, he was himself an insider.
As Time magazine pointed out, when naming him as a 2011 Person Who Mattered, he could have spent years turning a blind eye to the shenanigans of his colleagues and enjoying all the perks of his position.
However, Michael Woodford is nothing but a man of principle and his personal integrity is evident on every page of this captivating and deeply disturbing book.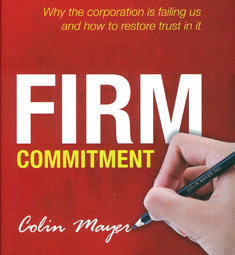 Restoring Trust in the Corporation
If Michael Woodford focuses on one specific corporation, Colin Mayer, Peter Moores Professor of Management Studies at Oxford University's Saïd Business School, takes on the entire corporate world and argues that the time has come for radical change.
Professor Mayer believes that the corporation is failing society—and not just as financial entities—while there are more complex issues of ownership, governance, accountability and trust.
He uses numerous examples from around the world to illustrate where the fissures in the corporate world are at their most extreme and sets out a bold theory of how and why changes must be made if the entire structure is to not fall apart completely.
Far from being a dry business analysis, this thought-provoking book is engrossing and should be required reading for anyone seeking a place in the corporate world of tomorrow.
A Tribute
While preparing this month's page, I learnt, with sadness, of the death of my old friend Donald Richie.
He was, in many ways, a role model for me. I first met the author in 1977 when I narrated a film script he had written. It was, like much of his published writing, deceptively simple, articulate and touched with brilliance.
Reviewing his last published work (BCCJ ACUMEN, March 2012) I remarked that no other commentator was capable of completely deciphering the kaleidoscope of Japanese culture and society as he could.
Now that voice has been silenced and we are all the poorer because of it. We remain, however, enriched by the published works he has left behind and I am grateful for the gift of having known him.