Here's to People Who Lunch
One of the many great pleasures of reading the weekend edition of the Financial Times (FT) is the entertainment value. Although we more frequently turn to the pink broadsheet for authoritative analysis and information, it is reassuring to know that its editors also see value in more light-hearted fare.
A good example is the "Lunch with the FT" column in which everyone from movie stars and politicians, to business tycoons and creative artists sit down with a writer over lunch in the "unforgiving proximity of a restaurant table" to share their views about their work and, indeed, the state of the world.
The list of those who've lunched at the FT's expense is a veritable who's who, and it should come as no surprise that the quality of the resulting journalism is never less than first rate.
As part of its 125th anniversary celebrations, the FT has produced a handsome book that brings together 52 interviews that were selected from the almost 1,000 that have been published since the column began in 1994.
FT editor Lionel Barber could not have had an easy job in making his choices, but he has succeeded splendidly in mixing the worlds of arts, business, politics, sport and much more: foodies and thinkers, fashion and lifestyle, and—most intriguingly—what he calls poachers and gamekeepers.
It is the sort of book that will be loved by browsers; there is no need to read from cover to cover. It's ideal as a bedside book—dip into it and enjoy getting to know one of the subjects in a way you've not previously been able to. After reading a piece, more often than not, you feel you've been party to the lunch, which is what I'm sure the commissioning editor had in mind.
A glance at the contents page was enough to excite my interest, not least because a friend is included as one of the interviewees. Twiggy (the wife of Leigh Lawson, an old friend and Royal Academy of Dramatic Art contemporary) is brilliantly captured by Lucy Kellaway in a conversation that rings so very true that it perfectly echoes some discussions we've had around our own dining table when the couple have been in town.
As with so many of the other subjects—for example, the novelist Martin Amis—you get a sense that you are meeting the real personality as opposed to that which the publicist so often requires the journalist to project. Michael Caine, for example, never once says: "Not many people know that".
Some chapters include the menu of the lunch that was eaten. They range from modest cups of tea and sandwiches to more gout-provoking indulgences. It is fascinating to see who chooses which dish (the interviewees also choose where the conversations take place, which is also very revealing).
For example, Akebono (the first foreigner in Japan to ascend to the rank of yokozuna in Sumo) opted for his lunch with William Dawkins to go to Trader Vic's in the Hotel New Otani. It is, he explains over an alcohol-free pina colada, just about the only place in town where he can get something close to the home cooking of his native Hawaii.
Another Tokyo correspondent for the FT, David Pilling, recounts his lunchtime meeting with Yuko Tojo, granddaughter of the executed wartime prime minister. Perhaps unsurprisingly she is a staunch defender of Hideki Tojo's reputation and argues points that surely made lunch a less than comfortable occasion.
As in the newspaper, some features are accompanied by a delightfully quirky illustration of the subject by James Ferguson; one could have wished for many more of these.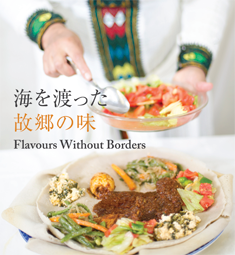 A Taste of Home
There are something like 10,000 foreign refugees living in Japan; a tiny, though not insignificant, fraction of the total number of displaced people around the world. The United Nations High Commissioner for Refugees estimates the total to be around 10.5mn. Sadly, this figure rises daily.
The Japan Association for Refugees (JAR) was set up in 1999 to help support asylum seekers and refugees in Japan. The organisation should not be confused with Refugees International Japan—a Japanese non-profit organisation that raises funds to support refugees overseas.
With the backing of Macquarie Group Japan, JAR has produced a slim but very attractive book of recipes that were contributed by Japan-based refugees from 15 countries and regions in Asia, the Middle East and Africa. In turn, proceeds from the sale of the books will be used to support refugees' lives here.
The recipes range from refreshing salads and light dishes that are ideal as starters, to a variety of curries and spiced dishes, and an eclectic mix of afters.
In some cases, the original ingredients are difficult or impossible to find in Japan. Thus, the contributing cooks have sought out locally available alternatives. Each recipe is simply set out in both Japanese and English and is beautifully illustrated.