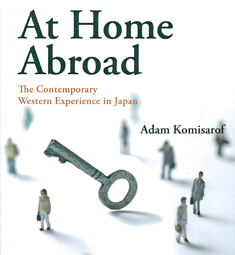 Making Sense of It
"How come you've stayed so long in Japan?" is a question I'm often asked and one that—paradoxically—I find more difficult to answer the longer I am here.
Approaching my 40th year living in Japan, I found Dr Adam Komisarof's book hugely enjoyable and liberating, because so much of what his subjects have to say echoes my own experiences.
A collection of 12 interviews with long-term foreign residents who work in a broad field of disciplines, the book has an additional three chapters in which Dr Komisarof uses his extensive experience in cross-cultural training and education to analyse the sum of the parts and offer further insights into the contemporary Western experience here.
A number of those interviewed for the book will be familiar to anyone with any experience of Japan; Donald Keene, Karen Hill Anton and the late Donald Richie are outstanding examples. Their responses to the author's carefully framed questions make for deeply satisfying and thought-provoking reading.
In each of the interviews I found myself nodding in agreement with several points, yet I also discovered new perspectives. I caught myself numerous times saying to myself, "I'd never thought of it in that light".
I was particularly taken with the profound sensitivity expressed by Glen Fukushima. A third-generation American of Japanese ancestry, Glen is known to many in the Tokyo community for his sharp intellect and for the significant contributions he has made to international relations and business (he was, for example, president of the American Chamber of Commerce in Japan for two terms).
He explains why he insists on using katakana (the Japanese syllabary used for foreign words) instead of kanji (Chinese characters) for his family name: "I don't want people to mistake me for a Japanese citizen. I didn't grow up in the Japanese system … I've spent a lot of time in Japan but I wouldn't presume to be a Japanese person, and I would not want to be constrained by rules that Japanese impose on each other but not on non-Japanese".
These are sentiments that would have pleased Donald Richie (in my view, the finest contemporary Western commentator on Japanese society as a whole).
In what was probably his last interview, he made an important point in the book about his relationship with the country in which he'd lived since 1947: "I never said that I fell in love with Japan. A lot of people writing about me have said that I fell in love with Japan. But it was much more reasoned on my part … if I were Japanese, I wouldn't stay in this country for 10 minutes".
Dr Komisarof's work is, I suggest, destined to become required reading for anyone interested in understanding today's Japan.
He will no doubt find many sympathetic non-Japanese readers. My hope is that he will also engage some of the key Japanese minds in this field.
Japan today faces a number of truly critical problems and an alternative view is often the key to unlocking unconventional solutions.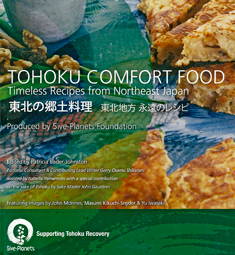 Comfort for a Good Cause
5ive-Planets Foundation Inc. is a non-profit organisation registered in Japan. It states as its mission support for innovation in managing scarce resources, and the safeguarding of food production capacity: a sustainable world for future generations.
Questions over food safety arose immediately after the 2011 Tohoku earthquake and disaster when the world was made sharply aware of our environment's fragility.
Not surprisingly, the impact on food production in the Tohoku region was immediate and severe. This book is designed to support the recovery of the region and its communities.
The result of the collaborative efforts of many individuals, the collection of recipes is undoubtedly for home cooking. There are no great surprises: most of the dishes will be familiar to anyone who has spent any significant amount of time in Japan, while the instructions are clear and simple.
Each recipe is rendered in Japanese and English, which makes the book versatile but—small gripe—the design suffers as a result and the typesetting and photography look somewhat old fashioned and tired.
In addition to the recipes, there are other interesting features—for example, about sake—and some photography relevant to the Tohoku project.