• Closed by earthquake, Haneda route open again
• £100mn invested in renovated
• First class cabins
• Started Reassure and Rebuild Campaign with UKTI
When British Airways (BA) started its services out of Tokyo (Haneda) International Airport on 19 February last year, it had no inkling of the tragic events that were about to engulf Japan.
The new route had to be suspended, but it's now up and running again, and there was never any question of Britain's flag carrier reconsidering its commitment to this market.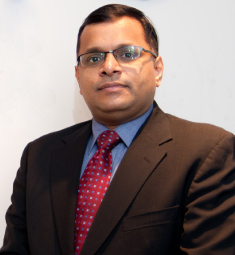 "British Airways has a long-standing history with Japan; you are our friends and our business partners", said Vishal Sinha (right), BA manager for Japan and Korea.
"We have flown to Japan for more than 60 years and have continued to fly to Tokyo since the earthquake", he told ACUMEN. "And, although we took the difficult decision to temporarily suspend our Haneda service following the quake, we are pleased to have now reinstated that flight in order to drive business to Japan".
In the immediate aftermath of the triple disaster, BA's staff worked around the clock to support people travelling to and from Japan. At the corporate level, they worked closely with the authorities in Japan and the UK to ferry British rescue teams to Japan so that they could help search for survivors, to bring in aid, and also to assist those who wanted to leave the country.
Last May, BA ran a campaign in which it donated ¥5,000 to food bank Second Harvest Japan for every ticket sold on the Japan-UK route. This was designed to help support their efforts to deliver food and other much-needed supplies to some of the hardest-hit areas of Tohoku. The effort generated more than ¥20mn.
Just as important, from a longer-term perspective, for helping to reconstruct a national economy that had taken a serious hit, was the collaboration with UK Trade & Investment at the British Embassy Tokyo on the Reassure and Rebuild Campaign.
The three key objectives are:
• Reassure investors in the UK that Japan is safe and open for business
• Help rebuild the Japanese economy by encouraging trade, investment, research and development assistance
• Support firms in Japan with operations affected by the disasters
"As part of our efforts to rebuild business, BA will provide 50 return tickets between Japan and the UK in our business class cabin, Club World, to support mutual trade and investment", Vishal added. "Of those tickets, 20 are being offered to companies in Japan that want to expand their business in the UK, but whose operations have been affected by the earthquake and tsunami".
And the airline's presence at Haneda is important in terms of future efforts to bring back stability.
"Commercial demand on the Tokyo to London route is encouraging, and that is why we launched the Haneda route", he added. "Operating from two airports in Tokyo provides our customers greater travel options and flexibility with their travel plans.
"Haneda airport offers more domestic connections for our customers and, as Haneda is located near the business centre of Tokyo, this is ideal for our premium customers who are pressed for time".
Another positive factor is that the new international terminal at Haneda is one of the most modern in the BA network, and "has been very well received by our customers", Vishal said.
"The size and design of the building makes navigating around the terminal extremely quick and easy".
From the airline's point of view, it was important for BA to become a recognised carrier at Haneda after Japanese aviation authorities fully reopened the airport to international traffic in October 2010, after 32 years of restrictions, Vishal said.
Narita International Airport, meanwhile, continues to serve as a key cargo hub and has a large presence among members of the Oneworld aviation alliance.
"Both airports benefit from a strong network of connections, with international destinations served by our Oneworld partners at Narita, and an extensive domestic network served by Japan Airlines at Haneda", Vishal explained.
The airline is operating brand new Boeing 777-300ER aircraft on its Narita route and, such being the importance attached to the Japanese market, has invested £100mn in a renovated first-class cabin, which is described as "the ultimate in luxury".
"First brings together balanced privacy, comfort, space and contemporary British design", said Vishal. "It draws on the airline's heritage, focusing on quality and attention to detail".
Vishal said BA welcomes the results of the latest bilateral civil aviation talks, which agreed to add Narita to the Japan–UK open skies agreement in 2013, as it will give customers greater choice.
"We are currently reviewing all options and opportunities arising from the agreement but, in general, we believe that increased connectivity and flight options between Haneda and London Heathrow would be greatly beneficial to customers—both leisure travellers and business travellers".
Top pic: Haneda's international terminal just before it opened in 2010.