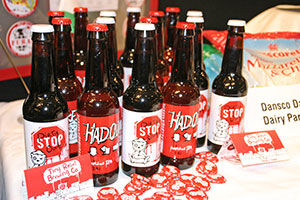 Not renowned for their wines, the Welsh played to their considerable strengths by staging a cheese and beer evening at The Foreign Correspondents' Club of Japan in May.
Organised and hosted by the Welsh Government Japan office, in cooperation with the St. David's Society Tokyo, the event was one of a series in Tokyo this year designed to raise the profile of Welsh cheese and beer. It came on the heels of two successful promotional events in March—Foodex 2015 and a Wales tourism seminar—and was followed by a showcase at the British Embassy Tokyo in September.
The May event attracted about a dozen firms, the majority of which were making their first foray into the Japanese market with their distinctive products. Guests were able to taste samples of these, as well as a selection of small dishes made using Welsh cheese by chefs from the embassy.
Anyone wanting to lay their hands on high-quality, imported cheese or ales was, not long ago, required to shop at one of Tokyo's specialist supermarkets—and pay the requisite high prices. But Bartlett-Imadegawa, president of the society, said things are changing.
"I believe the Japanese are increasingly getting a taste for good cheese and they're turning away from the cheddar that is just churned out", she told BCCJ ACUMEN.
Takeharu Nakajima, chief representative of Japan for the Welsh Government, said the event had been well received.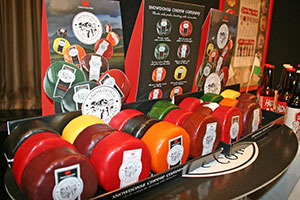 "The makers here have added some interesting flavours—from herbs to whisky—and you can see that the Japanese are enjoying them all", he told BCCJ ACUMEN, adding that it's a similar situation with the craft ales that were being poured.
"They love the fact that these are niche, unique products, they love the fact that many here are also produced by appointment to the British royal family and others have official seals of approval", he said, pointing to recognition such as Protected Designation of Origin.
This label indicates a foodstuff that originates, and is produced, in a defined geographical area with characteristics linked to that place.
Wales has a proven track record of welcoming Japanese firms, including big names such as Sony, Konica, Fujitsu and Brother, which have all set up shop in the country.
Among the manufacturers present at the event were the Snowdonia Cheese Company Limited. Based in Rhyl, the firm had brought a selection of coloured wax-coated natural cheeses, with names such as Green Thunder, Bouncing Berry and Ginger Spice.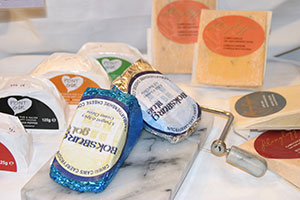 Similarly popular was the award-winning Organic Golden Cenarth, made by Caws Cenarth, in Camarthenshire, along with the firm's organic Perl Las, a bold, blue-veined cheese, and the Lancych Mature, which, bound in cloth and aged for six months, is a cross between Parmesan and cheddar.
The showcase event has quickly borne fruit, according to Nakajima, with Japanese importers snapping up a number of products for the local market, while the Welsh government Japan office is exploring using the cheeses as ingredients for a number of food businesses in Tokyo.
The cheeses were complemented perfectly by the ales that were poured, such as the bottled microbrews—produced by the Purple Moose Brewery Ltd. in Porthmadog—ranging from pale ale to rich, dark bitter.
The Celt Experience brand of draft beer attracted a number of new fans, as did Tiny Rebel Brewing Co.'s selection of bottled beers. The Dirty Stop Out, a smoked oat stout, flowed freely, while there was a great deal of interest in Cwtch, a Welsh red ale, Billabong, an Australian-style pale ale, and The Full Nelson, a pale ale that uses New Zealand hops.
"It is very important that we do events like this because Wales is too small a market for these companies, and they have some great products that deserve to be available in markets like Japan", said Nakajima. "These companies do not always understand overseas markets, so we see this as an opportunity to bring the two sides together".
"For Japanese, cheese is still primarily considered a French, Italian or Dutch product, which means that consumers here are aware of different varieties of cheese, so what we need to do is to educate them about the high-quality products that are being made in Wales", he added.