Stylish, eco-friendly alternative to power-hungry air-conditioners

Indications are that Japan is in for another long, hot summer—the effects perhaps exacerbated by power shortages—although there is a revolutionary range of new methods of staying cool and green. Unsurprisingly, they come from a British firm that has earned a reputation for innovation, effectiveness and style.
Dyson unveiled its AM01 Air Multiplier in late 2009, and followed up on its success late last year with two new versions that can effectively cool larger areas.
"The new fans are gaining traction now, in the wake of what happened in northern Japan", said John Flanagan, marketing director for Japan.
"They use 85% less energy than air-conditioning units and are able to reduce the perceived temperature by three degrees", he said. "So, for anyone who wants to save energy and have an alternative to a bladed fan, these are a very strong proposition".
For a fan, the Air Multiplier appears to be seriously under-equipped, lacking the component that has traditionally been required to push around the air. But Flanagan says that a non-spinning fan is a plus for consumers.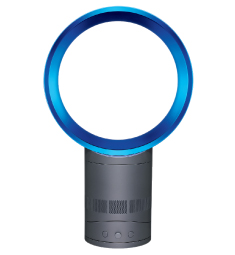 "One is much more comfortable with one of these than with a bladed fan, because the smooth flow of air feels more natural than the choppy, disrupted airflow that emanates from a traditional fan.
"In households, there is also the safety factor: there are no moving parts in an Air Multiplier that could injure a child", he said. They also need virtually no cleaning, unlike conventional fans that are prone to build-ups of dirt and regularly need to be taken apart for cleaning.
"The other advantage, of course, is that they look really cool", said Flanagan.
The AM01 consists of a loop on a pedestal, while the most recent variant utilises an elongated hoop. Air is sucked into the base of the pedestal by a revolving motor, which pushes it up to a slit around the rear of the loop. The air is then expelled, taking advantage of the effect caused by air passing over an aerofoil-shaped ramp to draw in surrounding air, amplifying the flow by a factor of 15. That means the fan is able to expel 405 litres of air in an uninterrupted flow every second.
The velocity and direction of the airflow can be adjusted, making the smaller device appropriate for the desktop and the larger ones ideal for the corner of an office.
"We believe great opportunities lie ahead for these air multipliers, since they look nice in an office environment as well as in the home", said Flanagan. "But they will also help firms save on their electricity bills which, in turn, is going to help Japan deal with the energy crisis it is expected to face this summer".
Flanagan has spent a lot of time in Japanese home-appliance stores since his appointment, in April, to monitor how consumers engage with Dyson's new fans. He has learned that their unusual look intrigues potential buyers—so far having helped boost sales five-fold over last year's figure.
Flanagan is coy about whether the firm is working on any new environment-related products—conceding only that fans are a very important part of Dyson's business and a growing sector that "we will continue to support". But he did emphasise that the firm's long, successful relationship with Japan will continue to expand.