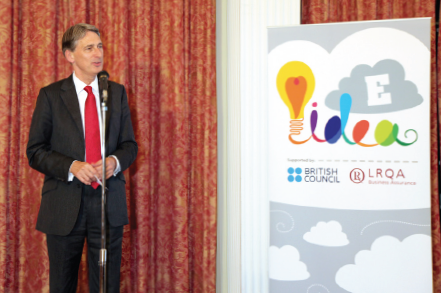 The remarkable work of young Japanese eco-entrepreneurs has been recognised by Lloyd's Register Quality Assurance Ltd. (LRQA) and the British Council, with the six winners of the E-idea Competition having received their awards in a ceremony at the British Embassy Tokyo on 21 September.
Competition for the awards was tough, with the winning eco-entrepreneurs fighting off 63 entrants to win as much as ¥600,000 in seed funding, along with mentoring and international training opportunities for projects they have designed to address some of the environmental challenges that face their local communities.
The awards ceremony was hosted by Ambassador David Warren and attended by Philip Hammond, the visiting secretary of state for transport, and Hideki Minamikawa, Japan's vice-minister for Global Environmental Affairs at the Ministry of the Environment.
"The work of the British Embassy is focused on many important themes such as innovation, sustainability, growth and climate change, and all these elements are tied together in this very important event, which celebrates e-solutions and e-entrepreneurs", the ambassador said. "I'm delighted that we have been able to hold this important event here at the embassy as a celebration of these awards".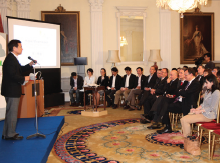 The E-idea Competition was launched in Australia in January by William Hague, secretary of state for Foreign and Commonwealth Affairs, with similar schemes also introduced in China, Indonesia, South Korea, Thailand and Vietnam.
In Japan, three prizes—each worth ¥400,000—are being awarded for start-up ventures, while three entrepreneurs looking to implement existing ideas received ¥600,000 as a step-up award. Similar awards are being made in the other participating countries.
The competition was open here to Japanese citizens and residents aged between 18 and 35, with applicants drawing up proposals in Japanese for projects that tackled sustainability issues in the areas of transport, waste reduction, energy reduction and efficiency, sustainable design, initiatives for creative industries or positive communications campaigns.
The judges also evaluated the proposals on their ability to bring about a change in the behaviour of the target audience, the focus of a specific community or industry, or the prospects for future commercialisation. Also taken into consideration was appeal to investors or donors, as well as the capacity for the project to be replicated or expanded in the future.
"I believe there are real opportunities to invest in this area and what I like about this competition is that it recognises that change has to demonstrably come from initiatives that are bottom-up and entrepreneurial", said Hammond, shortly before presenting the awards.
"And many of our winners here tonight fall into that category", he said. "These are sound environmental ideas that can support communities and strengthen the link between economic growth and environmental sustainability.
"I hope this award will stimulate others to deliver further innovations and ideas that can support those twin goals", he said.
Minamikawa echoed those sentiments and underlined the Japanese government's commitment to encouraging young people to come up with initiatives that help protect the environment.
"These activities are in perfect harmony with this government's three environmental principles of creating a society that has a low-carbon output, is in harmony with nature and has a balanced recycling regimen", he said.
WINNERS
Each of the winners was asked to give a brief presentation of their project during the event, starting with the three recipients of the step-up awards.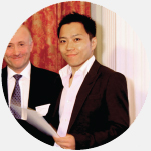 Tsuneyuki Fujioka (left), is the brains behind Art School by Funfam, a workshop that provides children, working with skilled craftsmen, with the opportunity to design and make their own plates from bamboo. With deforestation a growing global issue, Fujioka said, the goal of the project is to make people more aware of alternatives to products that require the use of fossil fuels during the manufacturing process and give participants the chance to learn more about a material that he described as "super eco-friendly".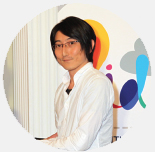 The Energy Literacy Platform, devised by Shuichi Ishibashi (right), is a tool that enables a user to learn more about the amount of electricity used by individual devices in the home, thereby encouraging people to become more careful about their overall energy consumption. Ishibashi said the aim is to reduce the amount of electricity that households waste on a daily basis—which comes at an important juncture, given concerns about energy supplies in the wake of the 11 March disasters.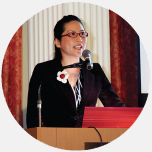 The third winner was Hiromi Morimoto (left), whose Tie for Change takes unwanted neckties, cleans them and turns them into a range of other fashion items, ranging from cufflinks to hair-bands, that are then sold at fairs and markets. The project aims to contribute to sustainability by creating an ecological, educational and empowering platform, she said, where "looking better" can lead to "making society better", by reusing unwanted garments. In addition, the organisation employs disadvantaged people—the homeless and single mothers—to produce the items and Morimoto said she has high hopes that the initiative could be expanded overseas.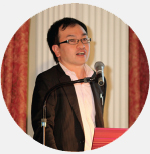 Taishi Azuma (right), is one of the winners of the start-up awards for his vision of using the drainage systems of rice paddies in the town of Mimasaka, Okayama Prefecture, as a micro hydroelectric generation system, at the same time as encouraging eco-tourism opportunities and generally raising awareness of the importance of Japan's traditional terraced rice fields.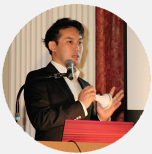 The Cyclus is a hand-held, portable power generator that has been devised by Satoshi Yanagisawa (left), and relies on constant rotational energy to recharge, for example, personal digital devices while having no impact on the environment.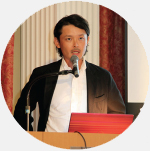 The final award went to Tatsunori Kikuchi (right), whose Horses and Humans Together scheme makes use of unused land at a riding club in Tomisato City, Chiba Prefecture, where horse manure is being used on a farming project, thereby reducing dependence on fossil fuels and contributing to the conservation of local ecosystems. Ultimately, Kikuchi hopes the farm will increase local food self-sufficiency. The project has the potential to address the problem of plots of land that are not being used in other farming communities.
"When LRQA and the British Council first launched the E-idea Competition, our aim was to make a practical difference to climate change in the Asia-Pacific region", said Mike James, president and managing director of LRQA, co-organiser of the awards.
"I believe what attracted us to it is that it is for young entrepreneurs—there is an upper age limit—and that is important because this is a generational issue.
"The standard of the entries has been inspiring and the job of the judges was a difficult one; this was a tough competition", he added. "But this is a great example of a commercial company and a public organisation working together for the greater good".