As a nation, Britain is perhaps most famous for sharing with the world such treasures as Stonehenge, whisky, Big Ben and the Queen.
But on closer scrutiny it is clear that each of these cultural gifts we have bestowed on mankind—barring Her Majesty, of course—is a product of technology that was ahead of its time.
There are countless more examples, from Jethro Tull's seed drill to the mechanical pencil, the television, the computer, the World Wide Web, the jet engine, DNA fingerprinting, the gas turbine, the microchip and the vaccine for smallpox. All the work of Britons.
Yet the UK seems to default to modesty and play down its technological breakthroughs.
The result is that the country is better known for football than for Michael Faraday's discovery of electrolysis, and appreciated more for fish and chips then for John Cockcroft and Ernest Walton's splitting of the atom.
The Innovation is GREAT campaign, launched by Prince William, The Duke of Cambridge, on 26 February at Roppongi Academyhills, is designed to go some way to rectifying the image of Britain as being a little behind the technological times.
It aims to create new links with the private and public sectors, along with academia and investors.
The campaign will focus on four areas in which British firms and academia lead the world: robotics, healthcare, big data and developments in outer space.
Opening the year-long showcase of the best of British knowhow, the duke said Britain and Japan have been learning from one another since the seafarer William Adams became the first Briton to reach Japan 415 years ago.
"At the end of the 19th century, Japan imported a great wave of technology and practice from the United Kingdom, from railways to whisky", the prince said. "In the second half of the 20th century and into this one, the exchange has been more two-way.
"Britain's car, train and nuclear industries are reviving, and becoming world-beating, thanks to Japanese investment from Hitachi, Nissan and many others", he added.
"The United Kingdom has a proud track record of giving the world life-changing products and designs—from the Internet to the hypodermic syringe.
"And we have a long track record of opening our doors to entrepreneurs from overseas", the prince added.
Then, donning a happi coat, he carried out the symbolic cracking of a barrel of sake with Soichi Noguchi, lead astronaut for the Japan Aerospace Exploration Agency, and Andy Palmer, chief executive of Aston Martin Lagonda Limited.
The importance of the Innovation is GREAT campaign was emphasised by British Ambassador to Japan Tim Hitchens CMG LVO, who said: "UK–Japan relations are already exceptionally strong and fruitful, but I feel there is more we can do together to build a better world.
"We need to use our influence responsibly to help make our societies and lives more fulfilling", he added.
"I am tremendously excited about the programme of events and initiatives that we have planned for the year ahead and I hope they will be instrumental in forging the partnerships that will take our relationship to new levels".
Robotics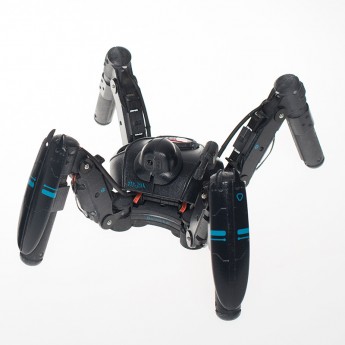 "Japan is famous for its achievements in robotics, industry, and in society as well", said Geoff Pegman, chief executive of RU Robots Limited.
"Robotics is one of the eight areas of innovation that the British government sees as an engine for growth for the UK economy, and we want to collaborate closely with Japan".
Working together would benefit both countries, Pegman said, in fields as diverse as healthcare, manufacturing, mass transport, agriculture and food production, as well as urban development.
"Robotics is going to disrupt and change our society, and it is up to the leading nations to be ready to deal with that challenge", he said. "It is a sector that fits well with entrepreneurship: the UK is the most entrepreneurial nation in Europe and fourth in the world".
Silas Adekunle, founder of Reach Robotics and the Mecha Monsters range of game androids, is evidence of that national trait.
Adekunle's firm, which he set up before he graduated from the University of the West of England, has created the first robots in the world that are designed for gamers.
"We wanted to make robotics more fun and engaging because most robots at the moment are passive", he said.
"Mecha Monsters are robots that battle each other, controlled by a smartphone or tablet. They become stronger with each battle and can be customised through physical and virtual add-ons".
Displaying his devices to intrigued Japanese after the campaign's opening ceremony, Adekunle said Japan is the ideal market to showcase the multi-legged robots. He attributes this to the population's long and keen interest in robots and their swift adoption of both robot and gaming technology.
Big data
Britain leads the world in its commitment to open data, said Sir Nigel Shadbolt, chairman and co-founder of the Open Data Institute.
Japan, however, is in 19th place on that global list, underlining the opportunities that exist in a sector that is presently experiencing what Shadbolt describes as "an avalanche".
"Data is a new asset class and its availability is extraordinary", said Shadbolt, who is also professor of artificial intelligence at the University of Southampton.
"The human genome is now used everywhere for the betterment of humanity; GPS started out as a military application but now it's in your car and your mobile phone".
From transport to healthcare, crime data to energy and the environment, every area of our daily lives today depends on access to data, he said.
Healthcare
James Roberts has followed an innovative path, ignoring conventional wisdom to create the world's first inflatable incubator.
Roberts built around 100 prototypes before he was satisfied with the device, which is designed to help premature babies in refugee camps or disaster zones around the world.
A project that he started while a student of product design and technology at Loughborough University in Leicestershire, MOM Incubators Ltd.'s products cost a mere £250—a far cry from the £30,000 of a conventional incubator—and should be in use by 2017, Roberts said.
So revolutionary is the concept that Roberts was named the winner of the James Dyson Award 2014.
"Dyson is one of my heroes so it was a great honour to meet him, and it's wonderful to have his name behind the product", Roberts said.
"I've used the prize money for patents and trademarks because I want to collaborate with the right companies to make sure [the incubator] progresses as I want it to. It really is my baby".
Professor Sethu Vijayakumar, of the Institute of Perception, Action and Behaviour at the University of Edinburgh, is working at the junction of robotics and healthcare. He is part of a team that has devised the advanced Robo-limb and I-limb Ultra prosthetic upper limbs.
"Our bio-interface is unique in the world", Vijayakumar said. "While others are also working in this area, we have already fitted more than 600 patients with these units, giving them incredible dexterity".
The smart limbs are designed to sense input from the user's brain to operate in the same way as a real arm or hand. Aside from moving, twisting, gripping and turning, the devices can also remember the shape and grip required to hold a user's everyday objects, such as a cup of coffee.
Vijayakumar said he is in Japan to find new collaborators in academia and the private sector for future enhancements of the existing technology, and to develop new medical devices.
Outer space
The costs of space exploration and development are such that cooperation makes sound economic sense, said Professor Sir Martin Sweeting OBE, executive chairman of Surrey Satellite Technology Ltd. and director of the Surrey Space Centre.
Still, there are significant opportunities in the sector, he said, pointing out that the British space industry contributes £11bn to the national economy annually and employs some 29,000 people.
"Uses of space are expanding and it is becoming an essential component of national economies, contributing to business, agriculture, communications and many other areas", Sweeting said.
He added that, in the years ahead, the space sector has an important role to play in global security and work to counter the threat of terrorism, as well as in locating natural resources and monitoring the effects of climate change.
Much of the UK's focus in recent years has been on developing ground-monitoring or communications satellites, and then devising ways in which to reduce their scale in order to lower launch costs.
From devices the size of refrigerators a decade ago, British ingenuity has reduced satellites to the size of a loaf of bread. Over the past 13 years, 43 British satellites have been placed into orbit.
"Space is no longer the preserve of the superpowers and it is now within the reach of any nation", Sweeting said. "The UK government has been very encouraging in this sector and we are hoping to foster increased and deeper collaboration".