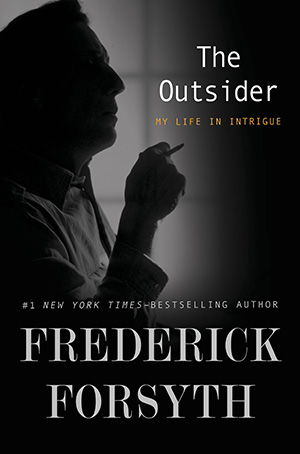 "We all make mistakes, but starting the Third World War would have been a rather large one. To this day I still maintain it was not entirely my fault. But I'm getting ahead of myself".
So begins the preface to Frederick Forsyth CBE's immensely readable autobiography.
Forsyth is a remarkably adept storyteller as his 12 best-selling thrillers attest, and he is every bit as skilful when it comes to narrating the story of his own life. Short and concentrated chapters get directly to the point and there is a force that makes the reader turn the pages, eager for more.
By his own account, Forsyth never intended to be a writer. A former Royal Air Force pilot who never lost the taste for high-flying (he piloted a Spitfire in his mid seventies), he began his career as an investigative journalist. It is not difficult to understand that his need for adventure—and, yes even danger—were major drivers.
Forsyth had a somewhat unusual childhood, especially for a child of his time. At an early age he was sent to France and later to Germany where he learned the countries' languages with a proficiency that allowed him to pass as a native speaker in both. This became a priceless skill that would serve him well in later years.
It was his fluency in French that ensured his employment with the Reuters news agency and a posting to Paris, which at the time (1962) was in some turmoil.
One story he covered was about an attempt to assassinate then-President Charles de Gaulle. Little did he know it at the time, but here were planted the seeds of what would become his first best selling novel, The Day of the Jackal. Such synchronicity appears to have pursued Forsyth throughout his career.
His spell with the BBC as assistant diplomatic correspondent was in many ways a tremendous disillusionment.
"Had I known the full level of incompetence of the Commonwealth Relations Office and its sister the Foreign Office and the level of slavishness the BBC foreign news mini-empire at Broadcasting House would dedicate to both ministries, I would have … never applied for the job in the first place".
But it was with the BBC that Forsyth had his first taste of Africa, a continent to which he would return after his dismissal from the corporation, and about which he wrote with great passion.
His freelance accounts of the Biafran War in Nigeria (1967–'70) were harrowing. He left readers in no doubt of the contempt he has for former Prime Minister Harold Wilson KG OBE and his administration, for their role in enabling the horrors by arming the Nigerian forces while mendaciously claiming not to be doing so.
Forsyth's account of how he bluffed his way into the publishing house of his first novel is itself like something out of fiction and makes for highly entertaining reading. The rest, as they say, is history, with a three-book deal and the sale of film rights rescuing him from out-and-out poverty at just the time when things appeared hopeless.