Wine relations between the UK and Japan are thriving, according to award-winning industry expert, author and journalist for The Financial Times Jancis Robinson OBE. If recent press reports and interest in Japanese wines among the British population are to be trusted, Robinson is right.
Trade publication The Drinks Business featured its Top 10 Wines in the UK Press in February 2015. Among them were two from Yamanashi Prefecture.
The first, Grace Koshu Hishiyama Private Reserve, "looks ghostly, but … has the signature yuzu citrus freshness backed by solid stone". Meanwhile, the second, Sol Lucet Koshu, was described as "light and bright, but with sufficient bite".
Speaking to BCCJ ACUMEN at the Tokyo American Club where she presented a wine tasting, Robinson had nothing but praise for Japan's culinary heritage and viticulture. "I have a great deal of respect for the Japanese palate", she said. "I think they are great on both food and wine".
Robinson is the first non-industry person to be awarded the title of Master of Wine (MW), a qualification regarded in the wine industry as one of the highest standards of professional knowledge. She visited Tokyo in early February while on a five-leg tour of Asia and Australia.
When Robinson visited Japan five years ago, she was "particularly exploring the Koshu grape", which is the signature variety of Yamanashi Prefecture, an area dubbed the "Bordeaux of Japan".
Koshu of Japan, an entity established by wine growers in the region, has promoted the grape in an annual campaign across Europe. London was the first part of that initiative, which is now in its seventh year.
Indeed, according to an entry in the 2015 edition of The Oxford Companion to Wine, by Robinson and Julia Harding—an author, journalist and fellow MW on the JancisRobinson.com team—Koshu is "the best-known indigenous grape variety in Japan".
Further, "Koshu wine can rarely be accused of an excess of flavour but it can be a fine accompaniment to sashimi. Still, sparkling, sweet, and oaked versions are made".
Robinson has written or edited over 20 books about the industry. Wine Grapes, by Robinson, Harding, and Jose Vouillamoz, is a 1,200-page tome that is being translated into Japanese.
Robinson is impressed with Japan's wine culture, which she described as "very lively".
"The fact that the Japan Sommelier Association [JSA] has some 11,000 members is amazing", she added. During her recent visit to Tokyo, she gave a lecture to some 700 JSA members.
She also delivered a keynote address before wine enthusiasts at the Academie du Vin, a wine school in Minato Ward. Established in Paris in 1971 by British wine expert Steven Spurrier, the school opened its Tokyo arm in 1987.
Academie du Vin is one of only a handful of places in Japan where students can take exams set by the Wine & Spirit Education Trust, the London-based global leader in wine and spirits education. In 2014, Robinson's three-year stint as honorary president of the trust ended.
In a humorous speech at Academie du Vin, Robinson introduced six European wines, three white and three red. Attendees were able to sniff, sip, taste, and savour each one.
What is the difference between drinking and tasting wine, one may ask?
"Tasting is when alcohol is the enemy", she said, adding that when tasting wine "the last thing you want is any effect of the alcohol. You spit everything out; you're quite tense; you're analysing; and you're maximising your critical faculties".
And so, what of drinking wine? According to Robinson, "you're relaxed; you don't mind the effects of alcohol; you want the wine to show well, rather than criticizing it". Drinking wine, she said, is what she does in the evening; tasting it is what she does during the day.
According to The Oxford Companion to Wine, there are about 200 domestic wineries in Japan, and domestic labels accounted for 32% of total wines sold nationwide in 2010.
For Robinson, the wine industry in Japan may be light, but it is also quite bright.
---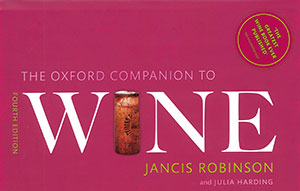 Reader giveaway
We are giving away three signed copies of The Oxford Companion to Wine. To apply please email: editor@custom-media.com.