BCCJ launches 3R project for needy families and children
It's a busy weekday evening at the Azabudai offices of Hands On Tokyo, where the air is filled with the clunking of plastic bottles and the scent of luxury toiletries. The source of the commotion is a group of more than a dozen volunteers, deep in concentration as they squeeze every last drop from miniature bottles of shampoo, conditioner, body soap, and body lotion into PET bottles. When full, the PET bottles are sealed and adorned with a customised label, before being packed away ready to be delivered to about 800 needy adults and children across Tokyo.
The scheme, which involves some of the capital's top hotels and a small army of volunteers, is the brainchild of Hands On Tokyo, an NGO founded in 2006 that draws on a network of more than 2,000 registered volunteers to help people in need, from those with impaired vision to refugees and single-parent households. Its 3R Project—reuse, reduce and recycle—distributes unused toiletries from large hotels to children's welfare centres and other facilities.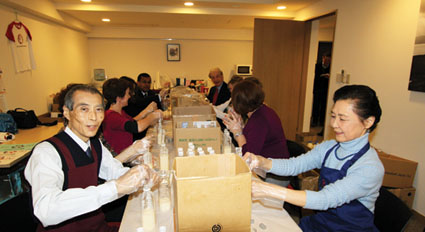 The project is as simple as it is inspirational. Luxury hotels each throw away as many as 150-200 partly used bottles of shampoo and other toiletries a day, says River Furuta, programme manager at Hands On Tokyo, as she gestures towards dozens of cardboard boxes filled with the hotels' perfectly usable castoffs.
The Peninsula Tokyo was the first to donate their amenities to the 3R Project, and The Ritz-Carlton Tokyo began soon after. Since BCCJ's recent involvement, Hands on Tokyo has been working closely with other BCCJ member hotels that have shown an interest in getting involved, including the ANA InterContinental Tokyo, Conrad Tokyo, Grand Hyatt Tokyo and Shangri-La Hotel, Tokyo.
The 3R Project's volunteers meet several times a month for about two hours to decant the liquids, ready for them to be collected by representatives of children's homes, women's shelters and refugees centres across Tokyo. "The facilities are very grateful, because these items are daily necessities", Furuta said. "We like to form proper relationships with the organisations we help. That way we can find out exactly what they need. "With the 3R Project, we're helping the hotels, the facilities, and the environment. By reusing the PET bottles that would otherwise have been thrown away, the 3R Project is helping to decrease CO2 emissions. It's really a win-win-win situation".
The 3R Project is one of 12 programs run by Hands On Tokyo, which last year won the Special Award at the BCCJ's annual British Business Awards. With the support of the BCCJ, the number of facilities in receipt of the items has quickly expanded since 3R debuted last October. According to Hands On Tokyo's programme director, Yayoi Sogo, the BCCJ's recent involvement in the programme helped to increase the number of facilities receiving the toiletries from 10 children's homes to about 25, as well as five shelters for refugees, the homeless and single-mothers.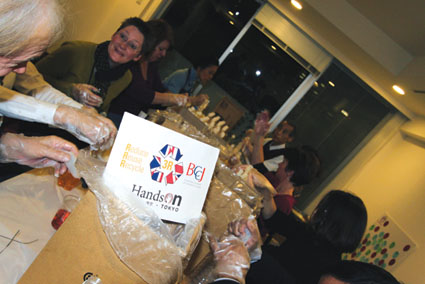 The next challenge is to find a more efficient way to deliver the items to the growing number of recipients. "We think it's a good idea for 3R Project volunteers to see it through from beginning to end," said Furuta. "Ideally we would like them to deliver the items personally—perhaps as part of a team, because the facilities like to see the same faces coming back each time".
Vishal Sinha, British Airways' manager for Japan and Korea, sees the BCCJ and its large network of volunteers and businesses as a bridge between provider and recipient. "This is also an ideal opportunity for BCCJ members to get involved in a project, rather than just in the administrative side of creating a project", he said.
Tony Grundy, a partner in the Morrison and Foerster law firm, said the BCCJ had been looking for new ways to demonstrate its members' commitment to corporate social responsibility. "Ten years ago it was almost impossible to find an appropriate organisation to which we could contribute", he said. "Hands On Tokyo has achieved an extraordinary amount in the last four years, and doing this allows our members to feel like they are giving something back. This is going to be a great partnership".
Next BCCJ 3R sessions are on 8 and 30 March. For details on volunteering, please see the BCCJ website: www.bccjapan.com